Tuesday, April 09, 2013
That's not a metaphor - I mean I actually climbed up a mountain. Or rather, a giant boulder. (It's the closest thing to a mountain we have in Atlanta!)
Saturday was a gorgeous day, but my husband and I spent the whole day working on the house we're trying to sell. As a reward for all that hard work, I decided to take the family to Stone Mountain on Sunday. We hiked up the trail (only about 1.3 miles to the top, but a good bit of it is hopping from stone to stone rather than walking on a smooth gradient) and then took the cable car down to go play in the park. A lady offered to take a picture of all of us in front of the carving, so I get to show and tell (I'm the one in the yellow shirt in the center!)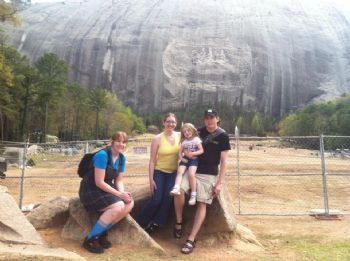 Naturally, the first thing I did was check in on Facebook and upload the picture, and within minutes, I was getting all sorts of compliments! One of my friends told me I look AMAZING and said she could really tell I've been working out, and another said that I "look so trim and svelte - whatever you're doing, keep it up!" and yet another told me that I look like a ray of sunshine.

I was surprised, because I figured I looked pretty sweaty from the climb, but it was exciting too. (Who doesn't love a compliment?) This is the first time anyone has mentioned a difference, and it was especially encouraging since I had been a little bummed about the scale not budging in a week and a half.
I still have a long way to go, but for a moment, I'm feeling on top of the world!