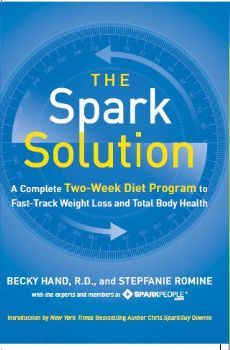 Review of the The Spark Solution: A Complete Two-Week Diet Program to Fast-Track Weight Loss and Total Body Health by Becky Hand, R.D. , Stepfanie Romine, and the experts and members at Sparkpeople.com.
When I was first asked by Coach Stepfanie to be a part of this group of reviewers of Sparkpeople's new book, I was really excited. I counted it a privilege to be a small part of this project.
After reading the material my first initial reaction was two thumbs up. Bravo! I would consider this new book to be more of a survival guide rather than "just another diet book" If you are just starting out or trying to get your Spark back after a downturn in your journey, this book is for you! I highly recommend this book to anyone who is looking to build or rebuild a solid foundation for their journey that will carry them through.
Rather than divulge a bunch of spoilers, I will point out those qualities that make the book outstanding in my opinion.
#1 – The book is written from the input of successful people.
Why is this important? – Far too many diet and fitness books try to take a totally unique approach that sets their method apart from all others on the market. Then they draft as many people as possible to try their way of losing weight. Of those that are successful, the best testimonials are included as proof that their system works.
With the Spark Solution, a huge cross section of the Spark community is polled to find out what made them successful. From this data, common threads are established and the doctrine is created. In other words, with other plans, the belief is created then the evidence to support that belief is sought out. With the Spark Solution, the belief is created FROM the evidence. Big difference. If you want to be successful, you find out what successful people are doing then follow suit.
#2 – I love the "Eight Habits Of Super Successful Dieters" in Part 1, "The Magic Of Two Weeks"
Why is this important? - If I was asked to list the top 8 things that made the difference for me in my own weight loss journey, it would be these 8 habits. These and the other concepts laid out throughout the book are hard won lessons from the battlefront.
#3 - The NEAT concept. (Non-Exercise Activity Thermogenesis)
Why is this important? – I am guilty as charged. What do you mean? You ask. I am really good for epic workouts and then go roost for hours in front of a computer or some other non-movement activity. NEAT is basically defined as those activities that burn calories during the day that is not exercise related, eating, or sleeping. So many extra calories can be burned throughout the day if we take the extra steps to incorporate more movement in our day.
NEAT as defined by the National Institutes of Health
www.ncbi.nlm.nih.gov/pub
med/12468415
In the Spark Solution, ideas are given throughout the book to increase the benefits of NEAT and get it to work for you.
#4 – The Sheer level of practical lessons.
Why is this important? – This fact makes the Spark Solution a reference manual that you can come back to over and over to review and renew your understanding of how to have a successful journey. In my opinion, a book that you can read once, glean a little knowledge, and then put on the shelf is not worth having. The practical information covering the numerous scenarios that we are faced with on a day-to-day basis make this book a tool in your healthy lifestyle toolbox.
#5 – Spark Swaps
Why is this important? – Spark Swaps is a concepts that applies to recipe design, exercise and more. It emphasizes simple upgrades, changes, or substitutions that will save calories on the dinner plate or burn extra calories at the gym. Innovative ways that will help you get a little extra bang for the buck in your day to day activities and meals. It isn't rocket science.
There is more I could write about the sections on motivation, building momentum and fitness but that will produce a long blog that is impractical to read.
Overall I highly recommend this book as a practical companion to assist you in building a lasting foundation for a long and successful journey.
For more information on The Spark Solution visit:
www.sparkpeople.com/spar
ksolution/
I received an advance copy of this book for free from SparkPeople and did not receive any form of payment for my review.