Tuesday, April 09, 2013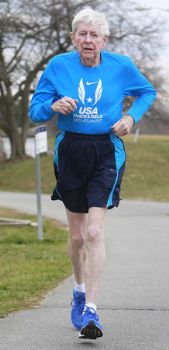 Hugh Campbell is 88 years old. Like me, he started running later in life. In my case I was 65 years old when I did my first race. Hugh did his first race at the remarkable age of 86! Wow!
Suddenly, I don't feel like I got too late a start in running. Hugh has done well for himself. He says it's because he caddied his own golf clubs for many years. He developed good leg muscles with all that walking and toting. A slow but steady building of leg muscles.
Hugh has not only become a runner, but he's become a world champion in the process! He is breaking world records at the age of 88, and see no reason he can't do better as he gets older.
You can read his story here:
http://tinyurl.com/blvogsk
Go Hugh!!
Thanks for reading and have a great day.