I was very honored to be asked to participate with a few other Spark members, in reading and reviewing a copy of SparkPeople's latest book:
"The Spark Solution: A Complete Two-Week Diet Program to Fast-Track Weight Loss and Total Body Health", written by Becky Hand, R.D. and Stepfanie Romine.
sparkpeople.com/sparksol
ution/
I was invited into the book by a well written introduction featuring "Erin", a SparkPeople member who had decided to ditch dieting and instead search for a way to live a healthy lifestyle. Her search results brought her to SparkPeople, which showed her the way to change her unhealthy habits one at a time. It wasn't overwhelming, and she learned lots in the process. I absolutely loved her story, and the actual roller coaster rides involved. The introduction is written by Chris "SparkGuy" Downie, and I was captured from the first page!
Another part of this book that I really liked, was a very short two page guide called "How to Use the Spark Solution". It is a short summary of what's to come, sort of a "tell them what you're going to tell them"! I really liked that, and I think it would help to calm anyone who is overwhelmed, by letting them know ahead of time what to expect.
Part 1 of the book is "The 14 day Jumpstart", where you are given background information, tips, tricks, motivation. This is very good stuff to know, whether you need to lose weight or not. Living healthy is for everyone!
Part 2 of the book is "Let's Get Started", a 14 day plan with detailed meals, snacks, fitness plans, tips, mind and metabolic makeovers, reflections, and my favorite: how to make tomorrow easier! I love to plan ahead, and these tips really resonated with me. I love making anything easier, especially all my tomorrows!! The food and fitness plans are simple and very reasonable, and flexible as well.
Part 3 of the book is "Tools for Success", where you will find each and every recipe for all the foods listed in part 2, all created by Chef Meg Galvin. You will also see the detailed fitness plans created and demonstrated by Coach Nicole Nichols. My favorite part of this section of the book was how they explained about what NEAT is (Non-Exercise Activity Thermogenesis). For me, I do believe that this is where the secret in weight loss resides, and I loved how the authors put it in such simple terms.
Part 4 of the book is "What Comes Next", with several sections that will guide you past those critical first two weeks and into the amazing rest of your life! Once you realize that you can do this, and have the confidence to keep going, you can start to dream and plan and make goals you never allowed yourself in the past. The authors again give us facts and information, that are tools that help us make better choices.
The Appendix of the book contain more tools to help, including a NEAT sheet, a menu of workouts, and an actual shopping list to help you have the food in your house (seriously, if it's not there, how will you prepare it). I love that the shopping list is given for you, as starting a new program can be so overwhelming and a grocery list is a simple thing, but a dear tool to have.
I have had this book for about six weeks now, and am still trying out the recipes. My favorite recipe so far would be the "Fruity French Toast with Greek Yogurt". My husband, who has never had a need to diet, loves the "Lean Philly Cheesesteak", and my sons loved the "Alfredo Pasta with Broccoli". The recipes do not reflect traditional diet food, but are very tasty and filling. I love that they are foods that I can make for both myself and my family, and they enjoy them as much as I do.
Overall, I really enjoyed the book, and its ease of progression. It is a book that anyone can follow and get results with, but especially if you are just beginning the program, or if you need a shake-up because you are on a plateau.
The Spark Solution is being released on May 7th, and you can find more information here:
sparkpeople.com/sparksol
ution/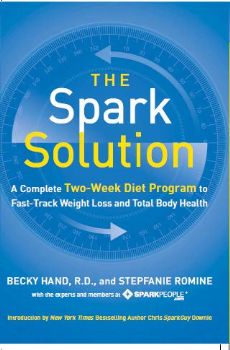 I received an advance copy of this book for free from SparkPeople and did not receive any form of payment for my review.