So Iíve been MIA on spark for about a week. Life has been crazy and unfortunately I put spark and healthy habits on the back burner. Sorry Leaping Daffodils for missing last weeks weigh in, I wonít miss it this week I promise!
Anyway, Iíll start with a recap of diet and exercise for the last week.
Iím pretty sure I went over my calories every day and I gained 4lbs back. I think part of the 4lbs is water weight. My salt intake was insane and Iím sure I was retaining water because of it. Letís just say last week is not a week Iíd like to repeat when it comes to food. I also did not exercise at all. Sad faceÖ
So last week was bad.
Monday wasnít super great either. I started out good on my food but screwed it all up by deciding to have Arbyís for dinner. My calories ended up somewhere around 2100 I believe. Not too terrible but not where I need to be. I didnít exercise at all yesterday either.
Iím going to remedy that today. Iím giving myself a wall pushups and squats challenge.
10 wall pushups at every bathroom visit and squats at the copier for however long it takes to copy.
Iím determined to stay within calorie range today and tonight I will get back on the treadmill.
Now for the fun stuff. I had a really great weekend. I accomplished quite a bit of wedding stuff. Found someone to play piano, ordered bridesmaid gifts, and made some detailed to do lists of what needs to be done still. Dan and I made some decisions about the ceremony and my mom and aunt picked up the majority of the stuff we need for the reception. We are having cake and ice cream sundaes, so they got all the toppings and put an order in for the tablecloths and decorations.
Originally the plan for the weekend was for Dan to come up here to visit me. We were talking on the phone Friday night (he had to work Saturday so he was planning to come Saturday afternoon) and he got a text from his brother, Doug. Doug got four tickets to the Tigers game for Sunday and he asked us to come with!
I was so excited, Iíd only been to one Tigers game and I was like 13 and didnít care about baseball. Now Iím older and I love baseball!
We got to park in the Tiger garage and our tickets were for seats in the Tiger den which are awesome seats. Hereís a picture from where we were sitting. It was taken on my phone so itís not the greatest.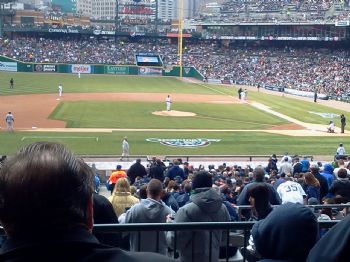 Here's my handsome man, he turned his hat sideways to block the bright light in the restaurant, it was really hot and bright.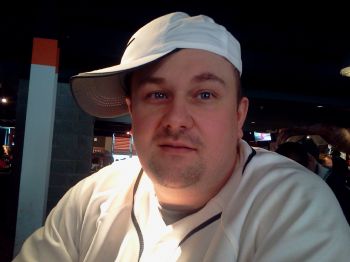 Here's us together, not the best pic but the lighting was bad.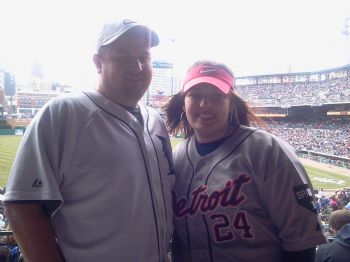 It was an awesome day even though the Tigers lost to the Yankees.