I found a prompt for finding out what you want from life - this having been the theme of most of my internet searching for the last couple of years as I go through regular waves of trying to figure out "What to do with my life".
There is so much emphasis nowadays on finding your purpose, your calling, your passion, your life's meaning... and I always feel a bit anxious about it because I am ot a particularly passionate person, I don't have a calling or a purpose in my life. i drift more or less hedonistically and primarily navigate by movibng away from anything that causes me anxiety or stress.
All the things I could be said to have a passionate outlook about casue LOTS of anxiety or stress and so I tend to move away from them quite deliveratley and certainly don't want to build my life around them.
I do have a really go grasp fo what my Core Values are, as for my NLPer background that just makes more sense to me for living a rewarding and fulfilling life. Hit your values and don't go against them and you are gonna have a pretty damn good life. But I still kept searching and searching for the missing bit that I am 'passionate' about or 'called' to....
It might be worth mentioning that when I was younger and religious I had a full tilt boogie religious experience, including knowing exactly what my life purpose was. About 7 years ago I had another and my Life Purpose was revoked.... rather I had completed it and got the very clear message that the rest of my life was for me.... I went through a really rough patch trying to work out how to live without this sense of purpose, and have honestly spent much of the last 7 years floundering about trying to find a replacement. So you see I know what it feels like to have one, and I know that I DON'T have one now. Not that i don't know what it is, but that I don't have one.
Ayhow, this prompt, one in a long line of many was fun... you had to complete the phrase "I want..." until you had a list of 100 wants. I found this very easy and it only took about 15 minutes whereas the authour of the prompting blog took 50 minutes.
Afterwards I looked at my list and saw immediately that everything fell more or less neatly into 7 main groups with maybe some overlap between two of them.
They were:
Worthiness - and the need for validation, to earn being worthy, the need to be more extraordinary or exceptional - lots of the 'looks' ones come under here, as well as the ones where I have fans etc
To be significant or influencial or helpful, In many ways the coaching stuff is here as it is about geting that validation from people.
Various gimmicks like unicycling and drugs recreation again more or less about being special enough
My own 'Opa's Farm' - garden, beriies, fruit, nuts, critters, being surrounded by loved ones, collingwood childrens farm, herbs, produce etc
Creativity - Arts, crafts, selling, creating, writing, music
Home stuff - beautiful house, in ground pool, time with people I love, holiday home, work form home
Security - money, safety, no anxiety, security, safe world, safe for critters, feeling safe enough to be adventurous
Fitness - health, various activities, being active,
This is good though because this really does show my values (and confirms that they are what I thought they were), and that my life is actually pretty close to hitting them all. I have said for along time that I need to work on being creative and my health and the rest was pretty good.
This reveals that i also need to do some significant work on my sense of self worth, and on connecting to other people as well as health and creativity.
It shows that I am doing right by myself with all the critters and garden and home stuff - that these are actually very fulfilling to me and should continue to be a big focus. it shows that my life has areas of weakness that need to be worked on, but that I am well aware of those areas, and that I am working on them, there were no surprises.
I guess I have been doing the searching for my life's purpose or meaning for a LONG time and kee trying to come up with something that looks good on paper (even though I should be immune to this given that every single blog/coach type person reveals the exact same goal of wanting to help others achieve their goals... what a weird meta goal that is) but the fact is that my values, my purpose is not linked to a clean mission statement like that.... I want to live in a nice home, with people I love, critters and a garden, create art and be active. Add to that a sense of self worth and it is pretty well covered.
There are a number of ways in which that could make a little money, but none of it is ABOUT making money or particularly suited to making money unless we had a good bit more space and wanted to invest a lot in it. If we had unlimited money that would be cool, but not to risk my security on. I am sure a different type of person would look at this same list and just see so many career possibilities, entrepenueship opportunities - and that is always what those articles are pushing towards. "Go live your dream" they say, as though turning what you love into a cashflow is the only way to go... now wonder I always feel like I am failing on having a purpose, because I don't really have any desire to go out and turn any of this into a career. I have a job, and it is good enough, especially for now.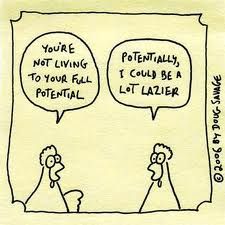 Dave and I have a phrase we use - "Secondhand bookstore" - which refers to the fun act of fantastising about following a career path, or turning something you love into a profitable endevour, with NO INTENTION or inclination to actually follow through. The pleasure is in the imagining, and we both are realistic enough to know that we wouldn't actually enjoy the reality, at least nowhere near enough to warrant the effort, expense and hardship involved. So when I am noodling about claiming that I want to start a cattery, the best damn cattery in the world, we both know it is really just another secondhand bookstore. I guess other people cal them pipe dreams....
So anyhow this is good.
I have confimred my values, and that the essence of what I value is absolutely available to me now, and ith scope to expand in the future if circmstances go well. It might be time to move out of the searching phase and into the doing phase... and maybe the whole searching thing has been about avoiding the committment of the next step after all.... about committing to that life "for me"... maybe if the message had been "for my values" I wouldn't have struggled so long... hmmmmm