That's right. Despite the two tests, four quizzes, group presentation, on-call schedules, work, trying to fit in fitness, tutoring, other random meetings, crunch time on my race prep (oh yeah, I am a coordinator of a 5K/10K/walk) and countless other things that I have likely forgotten...
I am gonna conquer this week.
I think I did well on my test today. I am buckling down for a long week of studying for my suuuuuper hard test on Thursday.
I didn't make good food choices for breakfast (I forget how many calories are in those stupid blueberry muffins and fancy coffee!) or lunch (I should have just had two pieces of pizza). But I had a healthy dinner.
After spin class (Killed it!!) I went grocery shopping and loaded up on healthy foods (strawberries, angel food cake, asparagus, mushrooms, salad, chicken for said salad, turkey bacon, eggs, apples, etc. etc.). I even got some not bad sweet alternatives. I can't seem to cut my sweet tooth completely (I loooove chocolate) so I am going to work around it. Tonight I made an angel food cake (angel cake ring, fat free cool whip and strawberries --> cut into 8 pieces --> around 100 cals) and plan on making some graham cracker sandwhiches (I will calculate out the cals tomorrow when I actually make it but 1 tbsp whipped choc frosting on a half of graham cracker and freeze!)
I lost a whole pound this week!
I have super awesome weekend plans! My friend is getting married this summer so we are throwing her a wedding shower Friday. I have to work so I wont be going to dinner but I will probably drink some. And Saturday is the annual Testicle Festival. IE - tons of beer. And ag olympics. And fun. My plan is to be diligent the rest of the week. And while drinking make sure to alternate with some waters (like every 2-3 beer or so??).
I think that is it so far. I was just feeling good and thought I'd share :)
Also for what it is worth, I am going to try to start working out more on the weekends.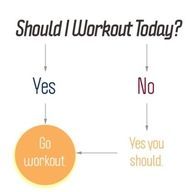 I realized I am really workout heavy M/T, but should be doning more on F/S. Also, realllly going to concentrate on my intake this week!