Snowy Beds
Monday, April 08, 2013
Here it is April 8th and the vegetable garden remains a snowy bed.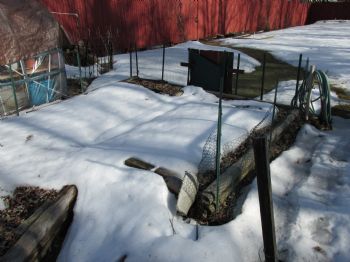 However, I'm not distressed because I know the coverings of winter are leaving good fertilizer for our kale, Swiss chard and peas. It is just that my hands want to get into the soil. Even our green house is slumbering under a tarp. The results of the roof raking in February are still piled up between the cottage and the arbor as well.
Five PM and the temperature in the coldest part of our property (away from all sunlight always) is 55F! YaHoo!! We are definitely into Spring. You know I've been noticing that the trees have their maroon and auburn tinge as leaf buds are thinking about opening up. Even the somber dark evergreens have a yellow-olive haze of new growth! Fifteen daffodil shoots and six tulip sprouts have pushed their way through the tough sod, but still no sign of crocus (normally the very first to appear).
I'm off to tap dance class now, so I'll look about for what is happening further down below in the town of Hillsborough....Whew, that was a workout!!
Tan and beige along with dark browns are the colors of scenery now along the roadways. I also noticed that the maple buckets have been removed since yesterday and the taps are gone. Only one blue plastic coil leading to a large white bin remained that I could see.
Tomorrow the temp is supposed to be in the 60's. YAY...Blue sky, lots of sunshine and birds warbling again! Spring has almost sprung.



I'm definitely ready for green!