Epic! OK so can I say if I could be on the fireground everyday I would.
You think you know the limit of what your body can handle, you think you know your limits. Sure you've ran until your lungs were on fire, collapsed from the burning in your legs after sprints, puked from the intensity of Insanity or some other insane workout. Well, let me tell you until you go beyond what limits your mind holds on your body you won't truly know what your body can handle! Have you ever worked your body so hard that you could die from it? Well that's what Firefighters do and the risk they have when responding to a call. Especially a Fire Call.
Pushing the body past what it is capable of. Well on the training ground we have to push past what our body is capable of, what our mind could never fathom. It's insane to even think of what we are capable of doing. If it was easy everyone could do it. Not even everyone can do it. It takes someone special to do this.
Anyways I am still amazed at what my body can do.
First activity of the day was vertical ventilation. Pretty much we learned the basics of running the chainsaw on a roof and how to cut our holes, doing it everytime the same, muscle memory will help us when we cannot see and have to go off our instinct. The good thing this time .... I was NOT AFRAID of the chainsaw. I respected it and in return it respected me and I got the job done, with more training and practice I will probably feel really comfortable on the roof with a chainsaw.
Second we did ladder rescue. Getting a downed victim or firefighter, from in the building to the ladder. Working together as a team. This was fun. Strength and technique, very important in this. We learned two carries.
Next we did hoselines! Oh boy! This is were technique is factor! I didn't realize how much until today. Back in August this was my biggest weakness. I couldn't ever get a pre-connect pulled, period!!! But I was able to get it out easily first try this time. I also had a good lay, and can manhandle the hose and it not manhandle me or kick me back when opening the line .... I was SO HAPPY this time that I was able to do this phsyically. I also kept telling myself through the day that I could do it and had the strength and capacity and mental toughness too. Never quit. Keep pushing. OH I HAD THE FIRST BEST HOSE LAY OF THE DAY, out of 14 people. I was the 15th person and was the best. Then another guy in our company had the second best ... heck yes we rocked it!!!!!!
Hydrants was last. I had a time of 3:31 with taking a hydrant. Yes slow, but it was my first time with a gated valve, opening the hydrant and walking the line and getting the kink out (Mind you the stick of hose that I was lifting could weight up to a ton.) Yes a ton, It was probably closer to 130-160 pounds but it can weight up to that much. I could barely lift it. It is much easier with the hose strap pulling it, but getting the dang thing around the hose is the hardest part).
We do all this while being soaked from the rain, wet bunker gear to begin with, we are soaked from head to toe with sweat upon sweat upon sweat. Our muscles are beyond tired, screaming and aching, yearning for fuel. Our lungs are on fire, breathing rapid, heart beat racing. Our minds keep telling us to slow down that we are tired. But we have to give 500% the whole day. Telling our bodies that we have this, that this is fun, we chose to do this, this training is crucial and to give it our all.
Well, basically in a matter of just a few words .... I never know how strong I was until I had to be fireman strong. It's a whole different ball game then just telling yourself to push through a few more reps ... yes it's life or death in some situations. It's training like your life depends on it.
You give your all and you will be prepared when you need your basics to come back.
I still cannot believe I am here and am loving every minute of it. I just wish I could get a job a full time job doing this. MY life would be beyond complete if that ever happens. I am just happy I get to give back to my community and give myself to a higher calling and give selflessly and serve .... something I have always wanted to do and something I happily am doing.
Thanks For reading~ Still waiting on my darn Insanity though, grr!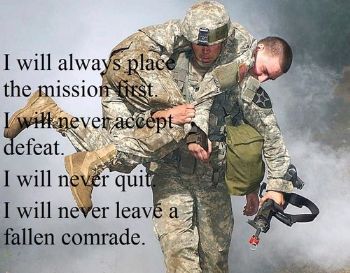 THIS picture summed up everything basically that I feel and why I do it.