Monday, April 08, 2013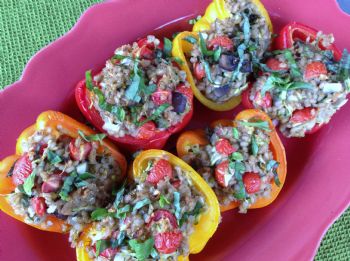 After my week in London (and all of the indulgences that went with it), I knew I needed to get back to my healthy habits, and fast. I know myself well enough to know that, the more time I spend out of my healthy routine, the harder it is to get back to it. That's the little bit of advice I'll send out to you this week:
Sometimes life takes us away from our healthy habits. For whatever reason - vacation, houseguests, an unusually busy time at work, a family drama, even a hurricane - we may stop cooking, eating well, exercising, meditating, etc.
(Read the rest of this post at www.sicilean.com:
www.sicilean.com/2013/04
/meatless-monday-barley-an
d-vegetable-stuffed-peppers.html
)