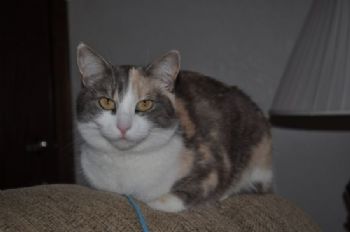 My kitty stopped eating. From what I read online if I can keep her eating and drinking she has a chance of recovering from her liver issues. I know that sounds terrible, but she isn't very old, maybe 5 years. She has a long future ahead of her if I can just get her to eat and drink.
Today my husband and I started feeding her some kitten milk and baby food turkey and gravy mix hoping it will help. We called the vet, but he didn't call back.
We also got a supplement that has nutrition in it and mixed in some milk thistle which is supposed to help the liver.
She drinks tiny amounts of fluids. She is moving weakly around the house and in the yard.
We are praying she doesn't pass. She could at any time as she has that look, like she may or might recover. She is walking on the cliff.
We are praying for a miracle, keeping hope that my precious fur baby will recover.
People ask about the wheat grass. Yes cats eat it when they feel sick. It won't make her any sicker. It has lots of nutrition and enzymes to help her. It was better to take her to the patch of grass in my vegetable bed that I use for juicing than to let her eat the crocus that she was trying to eat. I do not use pesticides in the vegetable bed, so the wheat grass is organic.
The pet food she is on is from the vet. He prescribed it. The baby food is an attempt to get her to eat. She has not been on it until today. If we can get her through the next few days she will progress back onto her diet from the vet, which she now refuses to eat.
Online they said if the cat stops eating they will die quickly from the liver issues, the people that forced the cat to eat had a higher rate of success.
UPDATED: Kitty is still very weak sleeping in a floppy rag like position. She is able to walk around the bed weakly. We have been feeding her with an eye dropper every half hour to hour and alternating with water. She takes it down well with the dropper not putting up much of an argument. It could be because she is so weak. My husband who used to work for a vet says her coat and skin is looking less dehydrated. The vet called and said to keep doing what I am doing. We did get the concentrated pet gel food and gave her a couple of doses of that.
We know we won't get much sleep tonight, but she is well worth the effort. Thank you for all the prayers and blessings.
Thank you for all the ideas.
Hugs.