Sunday, April 07, 2013
I did have some non-scale victories as well. A couple of weeks ago we went to Nordstrom's and just for fun, I tried on some clothes. A goal of mine was to be able to go into there and try on a pair of ridiculously expensive designer jeans and have them fit. I found a pair of size 31 Citizens of Humanity jeans that were $228. I was very nervous but I took them in the dressing room, tried them on and WHOOOHOOO they fit and actually, they were a bit big in the waist. There was NO WAY I would pay that much for a pair of jeans but it was good to know that I could finally get in them. I did go to Macy's and buy a pair of size 10 jeans. I had told myself that I would not be buying that many new pants until after P3 just in case my body wanted to put back on some weight but a lot of my pants were baggy and just looked sloppy.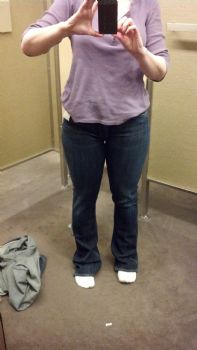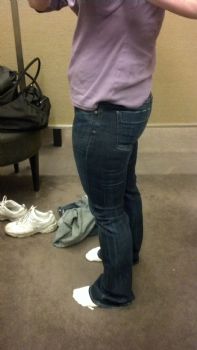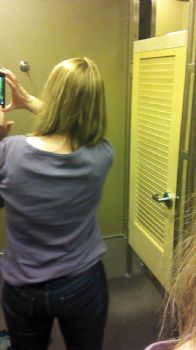 This booty shot is all about the angle cause it does NOT look like that....hahaha
Then there was the dress. I saw Ali from the Biggest Loser with this AWESOME black leather dress on and I so wanted to find it. The hubby and SIL said that I would look really good in that style of dress. I was unable to find who the designer was online but when we went to Nordstrom's, there is was. It was the exact one that she wore and it was a Diane Von Furstenburg leather dress. I grabbed a size 10 and went to the dressing room to try it on praying that it would fit. I almost cried, it did and it did not look too bad. Not like on the model on the website or Ali, but I am not their size so it would not look the same. It was beautiful but it costs….drumroll……………………….$795. There was absolutely no WAY I would pay that much for a dress even if I did have somewhere to wear it too. I would have to wear it at least once a week for a couple of years to justify the cost and there is just no where to wear it to. I know that the hubby would have let me buy it if I really wanted it but still, that's too much for my taste.
I had a pair of Old Navy white jeans that fit so good in size 14's but cannot wear those anymore unless I plan on showing everyone a full moon. I found a size 10's on ebay and I am so happy since they look and fit so good. Did a little happy dance when I put them on.
I am still having a hard time seeing the weight loss and that I am finally fitting into some size 10's which was my ultimate goal. I am sure that it will take time and hopefully I start seeing it.