Just when I think I am getting things sorted out another bolt out of blue arrives.
This time it our cat Dylan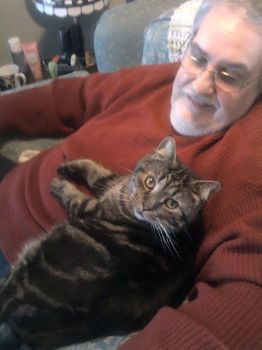 He went out early this morning and did not come back at his usual time and finally arrived at 11:30 hours looking very sorry for himself. He was trying to cough something up but could not. So after looking down his throat and finding nothing I decided to give the vets a call.
One taxi booked ( we don't have a car and my son is half way up Snowdonia on a Charity trek Daughter in law is out with her Mum) I get him to the vets.
They kept Dylan in to find out what he has done and I go home via another taxi.
15:00 hours we get the phone call that Dylan will be ready to pick up at 17:00 hours. The problem? Two blades of grass caught in his soft palette at the back of his throat.
Cost? £300
Thank goodness I kept the pet insurance payments going, they will claim on that but we pay the excess of a whopping £99.
So another taxi is now booked to pick him up and when all forms are filled out another taxi to get back home. A rather expensive day for two blades of grass.
Just when I could have done with my son being around is not available and Chizzy is not able to help out either.
We have asked to pay off the £99 on a monthly basis so it will be too bad but another payment I was not expecting to come out of our budget.
2013 is getting expensive and we are not half way through yet. It makes me wonder what else is looming ready to drop on us, whatever it is it can go away, I don't want it, I am fed up with sorting stuff out only to have it all blow up in my face again.
When we got Dylan we were able to cover this sort of thing, thankfully the Vet is understanding or we would end up having to find a new home for Dylan and that would be heartbreaking for both of us. Dylan is DH's cat as he goes to him more than to me. I feed Dylan Colin (DH) is there for cuddles.
I know its a daft thing to blog about but I get so fed up I just had to vent about it, not the emergency as that is something you can't plan for, but the cost, taxi's £22 then £99 excess to pay as well. It could have been a lot worse if we had to pay the £300 as well so that is one blessing.
Lets see what the week ahead has planned for us. Something nice please.
We were given the grass Dylan had swallowed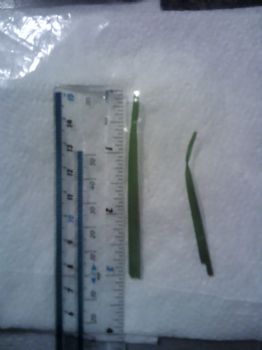 3 inches long no wonder it got stuck. You are looking at 2 blades of very expensive grass LOL