I have been SO down in the dumps... in a terrible funk... just plain blah... I know the weather has a LOT to do with it. Living in Erie, PA has a lot of ups... we live 6 minutes from the lake, we have an amusement park, and tons of things to do ALL the time. The down side is... we could have nearly 6 months of winter, or at least it feels that way. I can't complain too much, we don't often get sub zero temps, or more than 4-6 feet of snow at one time like other parts of the country. That being said, it can still be REALLY crappy for a REALLY long time.
When I was 300+ pounds, winter used to be my favorite time of year. I was hot all the time, so 16 degrees was the perfect temperature for me. NOW, I'm cold all the time and often wear jeans even when it's near 70. I've been looking forward to warm weather for weeks, and it just hasn't shown up. I've been depressed and that's just given me an excuse to stop working out and start eating... we all know where that gets us... even more depressed, more food, and even less movement... if that's even possible.
I posted the other day that "I'm tired of all of it" and I truly am. I'm tired of feeling like garbage because I'm eating garbage. I'm tired of looking like garbage... well, because I'm eating garbage. I forgot just how BAD things are when I'm not taking care of myself. I feel bad, I look bad and I'm just plain cranky!
Everyone has been so encouraging and supportive, and I really appreciate it. Being a part of this community makes this whole journey a bit easier. It's helped me, once again, WANT to continue the fight. I'm not just doing this for for me and my family anymore. I'm doing this to help anyone who has any doubts about losing weight or getting healthy... it CAN be done.
So when you feel this bad about things... what can you do?!? I don't know about anyone else, but I went shopping, lol! Yep, a little retail therapy does a body good! Oh, AND I filled the house with GOOD food again. Saturday, I decided enough was enough. I NEED to get things rolling again. I have events coming up, and I want to feel good and I want to look good. I'm going to South Carolina in 10 days, I've got multiple 5k's planned, and I've got a Dirty Girl to train for... I HAVE THINGS TO DO!!! I need to stop feeling sorry for myself and just do it!!!
I've been batch cooking all weekend and I have my workouts planned for the rest of the month... 3 miles already today, thank you very much. I'm getting things in order for the kids while I'm out of town, and I'm planning my outfits for my trip... want to see?!?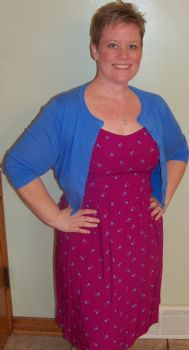 both came from Old Navy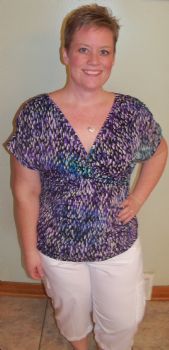 this outfit is from Dots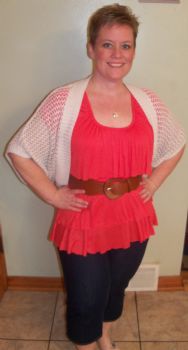 the top is from Dots, the rest is from Wal-Mart
See, shopping really IS good for the mind, body and soul, lol!
The MOST EXCITING event I have planned this year, is the Dirty Girl Mud Run. I'm doing it with a few of my favorite Sparklers on September 7, and I NEED to be ready for it! I refuse to be disappointed in myself, and lately, that's all it's been... complete and utter disappointment in myself. NO MORE!!!
I've got this!