I was very happy to get on the scale this morning when I saw that I am now under 180 pounds. I am roughly 2 and a half pounds or so from meeting my midway goal--- 176 lbs! I remember when I first started on SP how overwhelmed I was thinking that I need to lose about 100 lbs to get to where I want to be. Even 50 lbs felt like forever. Yes, it has been a few years, and even if I've lost slower than a turtle, I am happy that in the next few weeks I will gladly say that overall I have lost 50 lbs. Doesn't feel like it still, but I can tell you I like taking pictures of myself much more now, particularly my face. My double chin is slowly disappearing!
Best news? Even if I know BMI is not the end all, be all, I am proud to say that my BMI is now (barely) in the overweight category! Of course overweight is still bad, but I always hated thinking that I'm medically "obese." My BMI right now as if this morning is 29.7. Crummy, of course, but progress!
So, of course I have to post my new pictures. I'll post the ones that I took when I was around 187. Not much difference, but I can tell my boobs are smaller, and my butt is getting flatter. Not happy about having a smaller butt, but I am excited that my boobs don't look obnoxiously large now. My face is thinner, and clearer from acne. My hair right now is pretty much gorgeous-- I'm sure all of this has to do because I'm finally getting the thyroid treatment I needed for a while. Sadly I am still fighting fatigue, but I hope that with time that will go away.
Here are some quick old pictures, cause I can!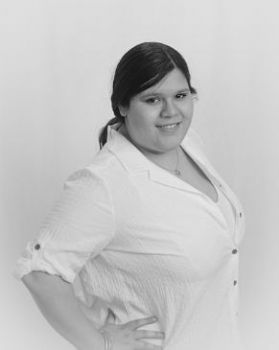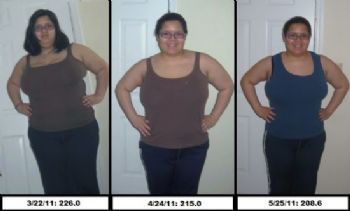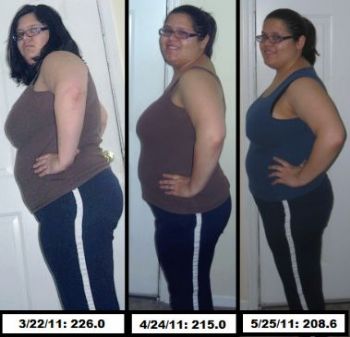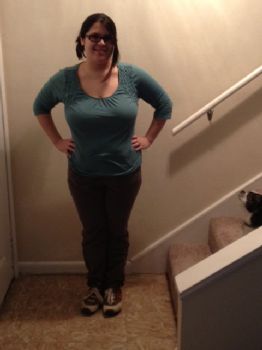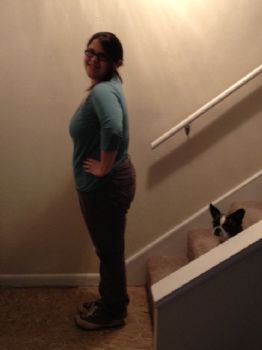 Anyway, here they are! Sorry if they are pretty crummy, we were about to go grocery shopping so my husband really didn't want to bother taking pictures. It's okay though!
Have no idea what my husband said that was so funny, but you can obviously tell posing was not my top priority here hahaha.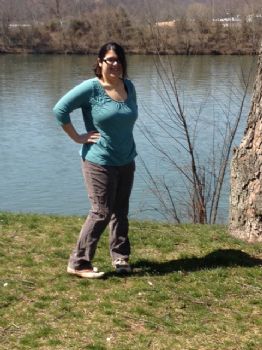 Showing off my smaller boobies! Sorry hubby.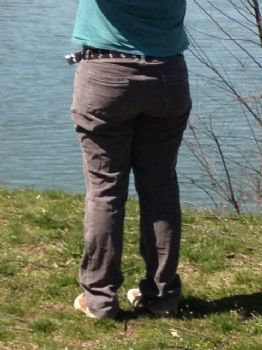 He totally took this picture and thought it was funny. I was going to delete this but I noticed one little detail: look at my belt. Before that belt barely fit me, now it is huge on me. I probably will have to replace it in the next few months. Psyched!
So we went grocery shopping. Andy said he really wants to start eating healthy, so I told him if he's serious I would do everything in my power to help him. I thought the best thing for us to do was to rearrange our refrigerator. Why are produce always at the bottom and meat and junk items on top? Of course Andrew is not vegan so he has meat items, mayo, cheese and the like-- but I think that from now it will be best I prioritize the items that are best for us. Took me a while to see how I wanted everything organized, but I'm proud!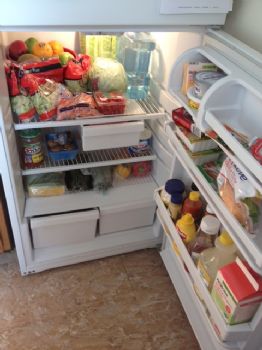 So I figured produce that goes bad faster should go on the top, followed by the produce that takes a bit longer to go bad around the bottom. Makes it easier to see which items should be used first. :)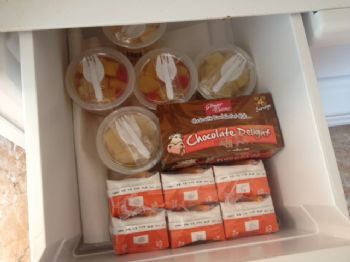 This is where my fruits use to go. Why hide them in here?! So I placed the kind of junky items in here that can stay refrigerated for a decent amount of time.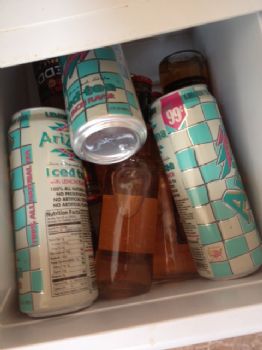 Veggies use to go in here. Why is beer and sugary iced tea prioritized? So I placed these in here and moved the veggies up top. :)
Can you tell I'm proud? Next up I'll do the freezer.... now that's a whole other animal. Ouch! :p Hope you all are having a great weekend.