I think I might start posting dinner blogs with recipes since I love to cook good easy healthy food.
Supper last night was Fish tacos with chipotle mayo on coconut tortilla.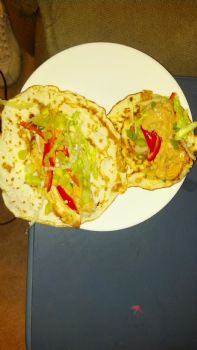 I used tilapia for this, and just cooked them in a little coconut oil with a little chili powder on them (could have used more). Found some chipotle salsa that I mixed with light mayo. Put some red pepper, green onions and lettuce on.
Here is the recipe for the coconut tortillas.
Coconut Flour Tortillas
Ingredients:
■1/4 cup coconut flour
■8 large egg whites
■1/4 teaspoon baking powder (optional, I like my tortillas thinner so I leave this out)
■1/2 cup water
■Coconut oil
The Process:
1.Whisk coconut flour, egg whites, water, and baking powder (optional) together in a large bowl.
2.Preheat small skillet on medium-high.
3.Melt 1 teaspoon of coconut oil in the pan and swirl around to coat.
4.Pour about 3 tablespoons of batter into the pan. Tilt and swirl the skillet to spread out the batter into a round thin tortilla shape.
5.Cook until golden brown on one side and then flip. (Careful! If you try to flip it too early or too quickly, it will rip. Be gentle and make sure the tortilla is not sticking to the skillet before you flip.)
6.Cook the other side until golden brown. Remove to plate.
7.Repeat the steps 3-6. This should make 8-10 tortillas.
Tonight is pork pesto with home grown spaghetti squash with tomatoes and maybe some creme brule made with coconut sugar.