My workouts have been happening at strange times lately. This past week, they've mostly been after lunch. I suppose I should look at the positive side and say at least I'm getting them done. I really didn't want to do it yesterday. The Husband had 3 days off in the middle of the week, and he kept asking me to help him with things in warcraft early in the morning. Last year, I probably would have just told him no and gone to go work out.
So yesterday, he wanted me to get him a fast queue for the ToT raid dungeons. (I'm a healer, so if he gets in line with me, the wait is short. 10 min max for heals. Usually less! If he went by himself as a damage dealing class, he could wait 30-60min instead) We knocked that out, and I grilled us some wagyu steaks for lunch. It was all very fancy. Anyway, by the time we were finished with lunch, I realized it was already like 2pm. I couldn't figure out where the day had gone! Instead, I just gave up and decided there would be no workout. My friend was supposed to come and visit in the afternoon, and she gets off of work at her library job at like 2PM. I wasn't sure if she was getting off at 2 or later, but I just used it as an excuse to go work on costume and not do anything else.
Well, she never showed. Sometime close to 6pm, she texted to say she was too tired, and could she come over tomorrow evening instead? Well, what do you really say to that sort of thing? I told her fine. I then went back to costumes for a while and found some Ancient Aliens marathon to LOL to while I glued trim. Sometime around 7pm, I realized that nothing was really stopping me from getting a workout in but myself. IT was late, and I still didn't want to, but I had time to knock it out.
So I did!
I think I spun harder than I have in over a month. I've been averaging about 9 miles/45 min lately, but I hit 9.5 last night I think. I forgot to check, but I know that with over 2 min left, I was at like 9.1. I was going fast. I was pushing it hard, and I ended with a guesstimated 775 cal burned. My PR is 800, and lately I've been doing about 730-750 which feels pretty awful to me. Anyway, we all know those calories burned aren't accurate, but since the machine is pretty consistent about what it thinks I'm doing, I use it as a method of measure.
I ended the day about 100 cal over my max range, which is ok, too, I think. I honestly haven't been giving two flying poos about my ranges because I've been so bummed out. I still measure everything and shoot for some sort of normal numbers, which is why I think I've been maintaining lately. I've really been hovering between 180-182 for weeks now. It could be worse.
Anyway, the right boot is almost done. I'm really happy about that. I need to paint a few decorations on the blue tights and finish the belts, then I can say that the costume is done from the waist down! I also need to make some sort of feather tethered decoration tie thing that goes around the knee, but that's so minor. I'll probably save it towards the end, since it's a finishing touch.
Later today, I'll finish the paining on the boot and get the red trim at the top attached. I'm currently trying to decide how much I want to bling out the boot. If I wanted to stick to accuracy, I'd be finished after the painting& red trim. I did, however, find a grey/black/silver multi-strand necklace in one of my goodwill junk jewelry bags that fits really well over the boot, and looks kind of nice. Accuracy or bling? The story of my life. What do you guys think? (I am also asking twitter this tough question. lol)
Here's the boot with the trim pinned on. I am not done painting the black lines, but you get the idea. White boot, yay!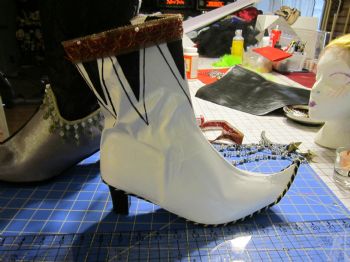 Ok, so that's pretty accurate. In the source material, the red trim on the boot is solid, shiny red. I made the boot out of white shiny vinyl, and decided I wanted to re-use the trim from the black boot's red stripe here. (The black boot's red stripe is supposed to be shiny red, too, and I went for this metallic trim). The source boot also doesn't have the black/gold cording, but like I mentioned earlier, it really helps my lines look cleaner when I can hide my seams with some trim bling.
Now, I have this bag of junk jewelry I got from goodwill. It's a HUGE ziplock bag, and I paid 14 bucks for it because they wanted it gone. I've been picking at it for YEARS now, and I get some really fantastic blingy findings from it. I found a multi-strand necklace that looks kinda neat, but I can't decide if I want to use it or not. Here's what it looks like hooked together around the boot: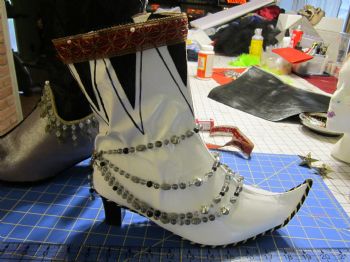 Aaaand.. let's pull back and see the two full boots together for better perspective. Also, it makes me feel accomplished to see them both together :P (Even though that white one isn't done yet)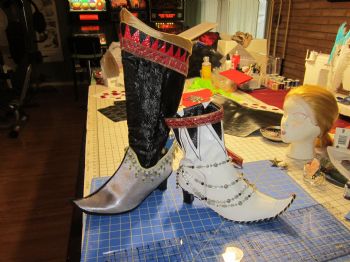 SO yeah.. accuracy vs bling. I think they both look good, but I can't really decide at how much of a stickler for accuracy I'm going to be with this costume. I've already taken a few liberties here and there that won't really change the general look of the costume.
If I can finish that boot today and maybe start on the collar of the cape, I'll be in a good place. The collar is the iconic part of his costume, so it'll suddenly look like Kefka when I get that collar on. I'm taking a break from working on the chest armor and finishing the shirt. I'm thinking I should just finally finish the belts soon, though. I don't know. it's starting to come together at any rate.
I need to hit up target for some bright yellow tights I can use on my arms, and then I'll have to paint those as well. I'll probably save the gloves for the end because I hate making gloves! At least these are fingerless :X
So to recap, here's the source: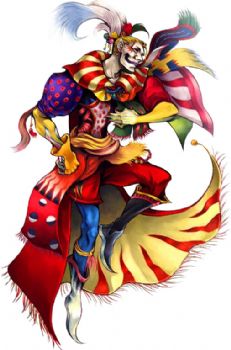 And here's my progress thus far: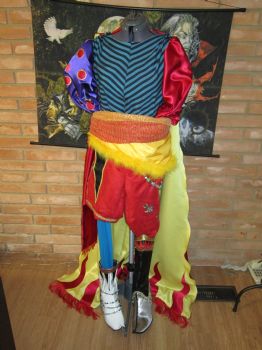 Still so much to do!