Yesterday after work, I ran a 5K!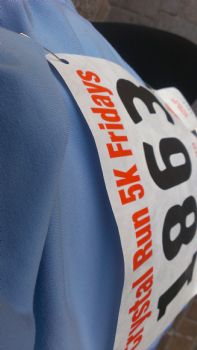 What do you think of that!? I ran the entire way, which surprised me because I do not run. Almost never. There's a class I very occasionally take at the gym where they have us run around the perimeter of the group exercise room a couple of times. I will run in an airport if I think I'm going to miss a connection. But 3.1 miles in succession? Surprise, surprise!
My SparkFriend (never met her before, still haven't!) bowed out and so I was left to go it alone -- alone with 1622 others. All of these runners and friends together, and there I was, with no one to talk to. But once the race started those lonely feelings went away, since running is a singular experience.
My plan was to walk with said SparkNot-quiteFriend, but since she wasn't there, and there were a lot of fit people running past me, I decided to start running, too. Since I don't run, I wasn't sure how I'd react so I went very slowly. So I kept slow, and by mile 2 at 26 minutes, I realized I wasn't panting yet so I decided to speed it up for the last mile. I finished at 38:35 with a 12:25 pace, in 1468th place. Glad I'm not competitive!
When I got home, my BF said that it didn't look like I tried very hard, because I wasn't all sweaty and gross. He often teases me that I look like a "drowned rat" after my tougher classes at the gym (step and spin). LOL But seriously, he said that I must be in better shape than I realize for being able to run the entire thing. I hope so!
I am very proud of myself for doing this! I worry that running is bad for knees and joints and so I won't be doing it regularly, but it's nice to know that I can do it if I need to or want to.

PS -- I ran a 5K 10 years ago. My then-BF helped me to "train" and I ran and walked it in 45 minutes. I did better with 10 additional years on me! WooHoo!