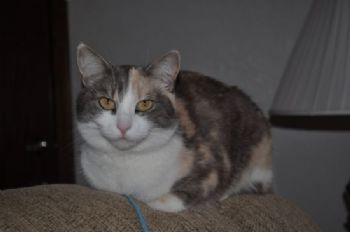 I had been wanting a cat for a long time. I had been ill, dealing with shocking news in 2009. I needed some comfort and joy. My husband said reluctantly I could get a cat. I searched all over for a kitten but I couldn't find one that fit. Finally I quit looking. I felt in time I would be provided with a cat that both my husband and I could love, one that he would approve of. I felt like If I looked for one on my own it wouldn't be accepted.
When I first met her she was so affectionate, tiny, shy, quiet and very much alone. She was abandoned by her mom who used to live across the street from me. She was left alone without food or water. The lady had small children who threw stones and sticks at her, kicking her tiny body. Now they were gone and she was all alone needing a new MOM and DAD !!!
She jumped up on a table in her old carport and stood up on her hind legs and literally hugged me. Then she rubbed her face all over mine. It was true love. I told her if she wanted to come home with me she would need to convince my husband that she loved him. He wasn't a cat lover.
Well she understood what I was saying. She followed me across the street. Normally she was a very shy, timid kitty. She walked up to my husband and rubbed all over him. He was grinning as he and cats don't get along. She twisted his heart around her claw. She even came inside the house with us without freaking out. Since she was all alone we ran out to the grocery store to get some much needed food. She ate with gusto and sat down with us on the front steps, singing us a loving song. She was claiming us !!!

In the morning my husband got up went to the bathroom. Normally this is uneventful, but the house was empty as I was painting it getting it ready to rent out as I had moved to his house. Well he FARTED several times.

Because the house was empty, the sound bounced on the walls. It was LOUD. Our little angel was outside sleeping under the window, in the cold waiting for us.

We didn't know she was out there or we would of let her in. She loved us so much she waited outside faithfully for her humans to wake up.
She cried and Cried loudly when she heard the farting. My husband made his cup of coffee and went to sit outside with her. From then on they were inseparable.
It was love at first fart.


My kitty is ill, still in the hospital. The vet says while she shows no sign of infection, her liver enzymes are elevated. The vet says her liver is acting up. OMG !!!
My baby is sick. My kitty is like a child to me. She is a companion, she understands me like an angel. Honestly she knows when I need more kitty affection, when I am sick, or sad she is always there for me. She fetches like a dog, she listens for me when I trip on my toes and squeak, she follows me around to make sure I am safe.
The vet says the liver can regenerate and heal. I still don't know much other than she is doing a bit better. He is hoping she will poo today to see how she is doing. She is eating and drinking and her high temperature is gone. He isn't sure if she will be able to come home today.
He says she is on antibiotics, SAM-E, and Steroids. The vet says she will need to be put on a special diet as the diet usually causes liver disease. WoW, that says so much for little friskies, purina cat food, and other we have used.
Her MOM and Dad are missing her. My arms ache to hold her. How I love petting her and listing her sing to me.
Than you everyone for your prayers. Please keep praying. From what I read online once a kitty has liver issues they can pop up off and on and has the potential to be fatal.
My kitty and I are meant to be together !!! Sending her xoxoxoxo.