Thursday, April 04, 2013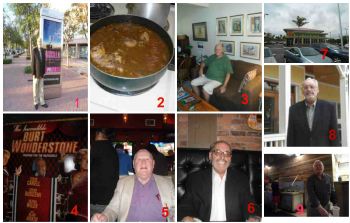 1) Seeing "Priscilla Queen of the Desert" April 2, 2013 after dinner at Carlos & Pepe's (will post review of later over the weekend.)
2) I do cook at home--this is a chicken and lentil stew
3) Norman relaxing in his new lover's couch
4) Friday means going to the movies at the Riverfront downtown and NO we didn't see Burt Wonderstone!!!!
5) & 6) Allen and me at the DRB (Democratic Republic Of Beers) restaurant for a bite to eat before we went to see "Fela"--won't eat there again!
7) Lunch this afternoon at PDQ--new franchise opened in Fort Lauderdale--will review it soon
8) In front of the Outback before we went into Miami to see "Les Miz"
9) Allen and I had an early bite at The Whole Enchilada across the street from The Parker Playhouse before we saw "Agatha Christie's The BBC Murders".
Now that I am retired I am looking for someone to take over my job--anyone interested?