Thurs - wk 6 of 5% Challenge - looking for good snacks.
Thursday, April 04, 2013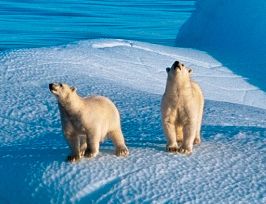 I think they smell food...must be a healthy snack or whole oven full of snacks...I am baking Chicken boneless/skinless breasts cut into 2ounce portions [yes weigh them on the scale...every one of them!] with light sprinkle of Taco seasoning mixed half and half with Gluten Free flour so it sprinkles easier and more evenly and not so strong..when baked, I let them cool and put in snack sized baggies and throw those in a freezer gallon bag and good protein snack or multiples for a meal. That with 75gm of frozen grapes in one cup water whirred into a frothy juice...mmmmmmgood!!
Or are they just out for their daily walk...how is your exercise doing?
Or are they looking for a chair to sit on for a new chair exercise video scheduled for today?
Have fun and have a good healthy day... I sure plan to!