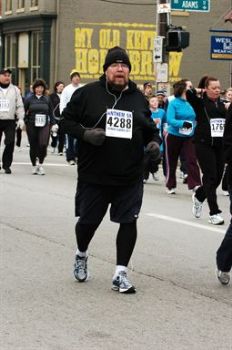 That's me in February of 2011.
I didnt know that was the last 5K I'd be running for awhile. In May of that year I began to experience lower back pain and through the summer it progressed into my legs and feet. I was walking with a cane. Every time I'd stand up pain would shoot through my legs and buttocks. Tension and worry made it worse. I spent close to five thousand dollars being told there was nothing wrong with me. I just need to lose weight and exercise.
"How can I exercise if I cant move?"
Orthopedic surgeons, neurologists, chiropractors, physical therapists all looked at me with that..........., well if you've ever been in pain you know what I'm talking about. To be fair there were some people who gave me some good advice and swimming and doing strength training in a warm water pool helped regain some mobility, but there still was the pain. I could walk, maybe 1/4 mile before my legs just ached.
All this time I was having dreams of running again - Not 5 or 10 K's, simply running and I was happy and I'd smile and OMG life was so amazing. Then I'd wake up and life was, well it was poopy. I never let go. On my worst day I told myself I'd run again, even if it were around the block.
After two plus years, a lot of money and heart ache it took my dear wife Joan and Wal-Mart to solve the problem. On Saturday, about a month ago, we stopped at Wal-Mart for Joan to get some body wash. As we were leaving she spied the Dr Scholls orthotic machine. What could it hurt? I wasn't to keen on spending 60 dollars for shoe inserts but when you been married close to forty years you've learned to do what you're told. Three hours later I am walking pain free.
Enter Adrienne Vita. Adrienne is my new life coach, lives in Portland, and is full of energy. When I told her about my desire to run again she told me she had issues running on concrete and other pavements. Maybe I should try running on a tread mill. Sorta work up to it. I told her I'd give it a try.
I spent a week walking on the treadmill and I realized my legs needed some re-strengthening. So I walked and walked and walked and then two days ago I let go of the bar and for 30 amazing seconds I started to jog, hands free. That was a most blessed feeling. As I slowed down to a walk I felt tears forming in the corner of my eyes. I realized there was no sense fighting them and in a few short seconds I am crying - hard. (This freaked out the poor woman next to me.) I WAS RUNNING. I have a ton of weight to lose before I can seriously look at running again but the point is I know I can and I know it doesn't hurt. I have lottsa strength training to do but that load seems lighter too. I didn't give up.
My dream is coming true and so can yours. Just hang in there.