Wednesday, April 03, 2013
I did BB Taebo Power for the first time yesterday. I used the weighed gloves & I didn't revert to walking it out unless he was. I was doing everything up to speed until about half way (30 minutes) into it then I had to start doing the combos at the learning pace instead of full speed. As for the push ups....I couldn't do those at all so instead I just held the push up starting postion the entire time. My arms were burning & shaking but I didn't quit.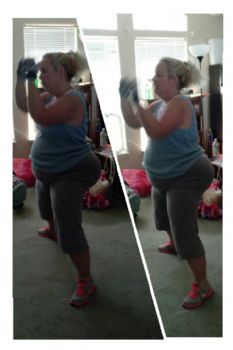 Today my arms are SOOO sore but it's a GOOD sore.
The plan today is to walk (which I've already done), do a 15 minute Dance video & hoop for 15 minutes. I can't keep the hoop off the ground but I'll try it for 15 minutes!