I am bad at kettle-bells. It is true. Tried. Couldn't figure it out. For some reason my back was more involved than in should have been. My hips weren't exploding right. Something. So we did like 5 and we decided to come back to it since I was having some sort of issue. I have been watching some videos and think that maybe I was too low (more in squat position) and therefore wasn't really bending at the hip. So I am looking forward to tackling this again maybe next week (although rumor has it, we may be in the pool).
Did some sweet wall throws today. Ouch. And some even sweet throw-down (really great for releasing pent up frustration, although I tend to throw not directly down and thus have to chase my 12 pound medicine ball through the gym a bit...whoops)
Worst part about today: I have a nasty little negative birdie in my ear.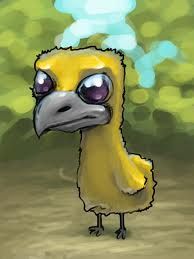 The little birdie says, "strength training may make you look better, but you're still gonna weight 267 lbs. Yeah you may lose inches, but you will always weigh a lot. How do you think that is going to feel?" "Are you sure you're eating right? Jeeeez, you know you weigh more than your own dad right? Like by 7 whole pounds. Embarassing"
I started panicking. You are right little bird. I know that the number isn't important in the long run, but yeah, I don't want to weigh 267 forever. I don't want to weigh more than my dad. I get that I'll look good, but I will still have to tell people that the weight on my license is true. What if I never lose weight and only gain muscle? How am I supposed to know what is right? ahhhhh... *mind explode*
So I am currently sitting here, trying to NOT look up every fitness article in the world (since a) everyone will have a different opinion, and b) everyone's opinion conflicts with one another) and trying to make that nasty bird go away.
But seriously. Any of you in that boat? I mean I want to look good. And be healthy and that is what is important? But how feasible is it to lose weight while strength training (keep in mind I do like 1 hardcore strength day a week, mayyyybe two)? I know a lot of people move to strength training after they've lost weight or hit a plateau.
Conflicted today. Probably because it's basically Wednesday. Which is obviously the worse day of the week. And to add stress to my life: two tests next week, trying to set up externships for next year competing among elite equine folk when my medicine experience is much less than theirs, still don't have a place to live next fall, my laundry is piling up and my 5K co-chair refuses to email me back.

EDIT - I would like to edit this post to say, I am not planning on quitting my ST (I really do love it! And love how it will change my body. And love that my body will consume more calories by existing. And I will be a beastly machine), just you know, expressing some errant negative thoughts floating around in my head.