Good afternoon everyone! I hope you all had a very happy and BLESSED Easter! I hope you all got some good pictures to remember the special day! Here is one I got Easter morning of my family...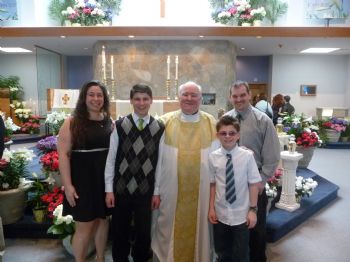 Sad part is that you can't see my very cool pink polka dot shoes... hee hee. Just joking! We had a great day. Thank-you Jesus!
Okay, lets get caught up and move into APRIL!!! What a great month... Spring is here!
March 30th's Photo word was: Dyed
I don't mean to sound depressing, but I didn't think of dying Easter eggs when I saw this word.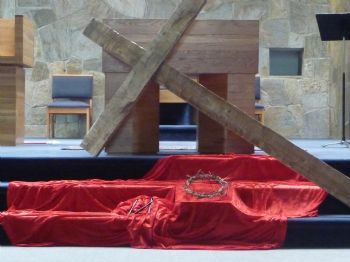 Jesus died for us all to have this life we have and so we can go to Heaven when our time on Earth is done. Thank-you for ALL you went through for me Jesus! I love you!!!
March 31st's Photo Word was: Baskets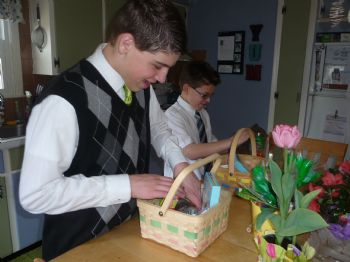 These are my two handsome cubs walking in and seeing their Easter baskets. They asked, so we still did the baskets and hid some eggs for them. Instead of stuffing them (the baskets and eggs) with candy, we thought out of the box some... hee hee. For the baskets, they did get some candy, chocolate, but we got them each one of those new "Tervis" cups. They are suppose to keep your cold drinks cold and hot drinks hot! Since my oldest wants to be a Police officer, we got him the one with that badge in it (in the cup walls), and my youngest cub got one that is for a paramedic / EMT. They were both excited! In the hidden eggs they got dollar bills. I think they didn't miss all the candy, hee hee. (Thanks SparkPeople)
April 1st's Photo Word was: Foolish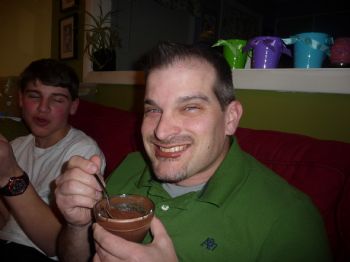 Papabear, AKA my husband, will probably be mad if he sees I posted this picture, but this is him in his crazy mood... acting foolish!!! And you thought I would of posted a picture of my cubs, hee hee... NOPE! Where do you think they get it, hee hee.
For Easter with my parents, I did a pudding bar (hee hee). I made 4 different pudding and offered toppings. This is my husband pretending to eat it, I guess, like a baby... hee hee. He was getting it all over his face! I love him in this mood. He can be so crazy! Makes the days interesting and fun (wink).
Today's Photo word is: Strut
For this word, they posted a rooster. I'll post my "rooster of the family", my oldest cub!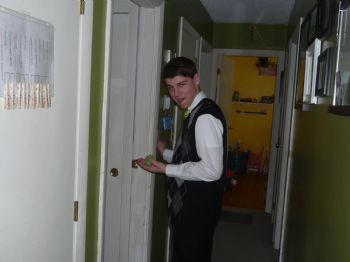 Again, he'd probably get really bad at me if he knew I posted this. This was him hunting for his eggs, "Strutting" his stuff around the house! Hay, he did tell me to take a picture of him... hee hee.
So not to make my oldest cub feel alone, this is a picture of my husband Strutting his stuff at his Mom's house why our little nephews searched for Easter eggs in the yard.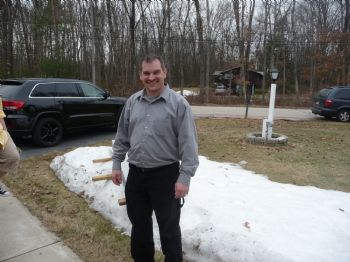 Like Father, like son?!!?!!! Hee hee
Thanks again for stopping by and reading my Photo blogs. Have a great day everyone! happy April!