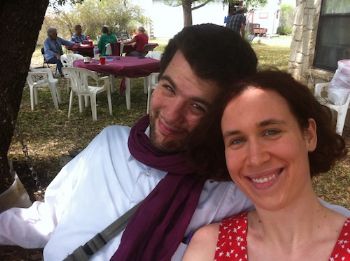 (Jason and me for Easter)
Starting stats:
Weight: 155 lbs
Body fat: 30% (goal: under 30%)
Muscle mass: 30.5% (goal: over 30.3% - Complete!)
Ending stats:
Weight: 152 lbs (-3 lbs)
Body fat: 29.4% (-0.6%)
Muscle mass: 30.8% (+0.3%)
Considering I spent 75% of my month sitting in front of the computer building a database and transferring 800 pages of data over to it (ie being completely sedentary and rarely exercising), I'm surprised I lost ANY weight this month. But hey, I'll take it!! This makes 7 lbs lost for 2013 so far. My goal was to lose 16-22 lbs in 2013, so with a quarter of the year finished, I'm doing well. Hopefully I can keep up the pace! This month's loss also puts me officially to a healthy BMI, which makes me super happy! Lastly, this was the first month in a very, very long time where I lost inches pretty much everywhere. It was only a quarter inch in each place I measure (except my neck, which hasn't changed despite hollowing out quite a bit - see above pic!), but many of these measurements hadn't moved in 4-6 months, so I'm celebrating it!
A few other monthly stats:
Inches lost: 1.75 total (0.25 each: arm, bust, waist, abdomen, hips, thigh, calf)
Spark's fitness minutes: 3375 (~56 hrs - skewed by Fitbit)
Actual fitness minutes: 1039 (~17 hrs)
Steps taken: 287,688 (~134 miles)
Official walked/run miles: 45.5 - my lowest since I started tracking in August...
Pull-up status: I am happily up to 1.5 pull-ups now! I'm *really* hoping I'll make my 5+ by the end of the year!
NSVs and March Highlights:
Well, not much happened this month, because again, I spent most of my month building a database! But I do have a few things to report. My wedding dress is getting closer to fitting! I can get it over my hips without worrying about the seams now, and I can zip it up about two inches higher than I could at the beginning of the year. Woohoo! Midway through the month, I donated my hair to Locks of Love, and then dyed my new short hair red. It looks awesome! In March, I celebrated birthdays for myself, my youngest son, my stepmom, and both of my in-laws, plus of course Easter, which I spent with my whole big huge extended family. I also bought myself a whole new summer wardrobe, hung out with my kids at the zoo and the local theme park (Fiesta Texas) during spring break, and had a blast at my local Spark team's quarterly dinner. Lastly, I started submitting my manuscript to agents, and signed up for a major writers' conference this summer. Eeek! Scary and exciting all at once.
Looking to April:
There is a LOT of events and happenings going on in April! I'm re-starting Airrosti therapy this month, which will hopefully get me back into running soon. (I haven't been able to while injured.) I have a 5K to run with my stepmom soon that will benefit the youth orchestra here in San Antonio, and I'm meeting with my local Spark team at a fitness-based street festival (Siclovia) here next weekend. Jason and I are starting ballroom dancing lessons, and we might be heading to Portland for a conference (him) and/or vacation (me). I'm also supposed to head to Michigan to see my brother defend his doctoral thesis, and I might be going to Houston for a book festival that an author friend of mine will be featured at. Soooo much going on this month!
Beyond events, I'm going to spend April getting myself back on track. I'm planning to focus on strength training this month - using some of Coach Nicole's videos here on Spark, rather than weight lifting. I'm hoping in particular to strengthen my chest, shoulder, and back muscles, to possibly get my pull-up count to two for the month! I'm also going to make sure I get in a lot more miles this month, walking and running - hopefully 75-100. In nutrition, I'm focusing on making sure I get at least five freggies a day. March was hit-and-miss all over the place - in food, in steps, in miles, in exercise in general, in sleep...I want April to be better in all those ways!
My big hope is to lose another 3 lbs in April. That will put me at 149 lbs, something that is almost incomprehensible to me. I haven't seen the 140s since 4/27/02, when I was six months pregnant with my second son. That day, I was at 149 lbs exactly, and after that day, I was in the 150s and up. I would LOVE to get back to 149 lbs by the 27th, exactly 11 years after I was last at that weight! It's a stretch, but I'm going to do what I can to make it there. Wish me luck!