Sunday, March 31, 2013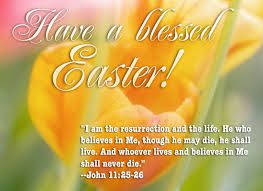 Hoping everyone is having a very blessed Easter Sunday. I know we sure are. Kids found their baskets that the Easter Bunny hid, plus the eggs that they colored for him. The two older ones must've been overheard by the Easter Bunny because it took them almost an hour to find theirs. LOL! Then off to church we went for a wonderful sermon, plus a special presentation by the youth. Great afternoon eating with the family, kids are enjoying the nice weather. And I'm hoping their day of awesome behavior continues throughout spring break for my sanity.

Suppose to be nice all week, so lots of outdoor time for all the kids. Wishing everyone a blessed Easter, and a blessed week.