Saturday, March 30, 2013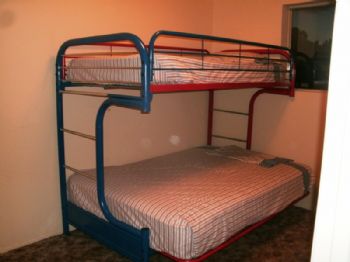 My honey found an older bunk bed and he spent the day painting it. It turned out really great.
My son went to get mattresses out of storage. He went to thrift store to find some sheets as we do not have any here for kids beds.
He found 2 boys twin sheet sets. They had $5 on them. The lady said that is too high and charged him $2.50. Then asked him if he found everything and he said he needed a full fitted sheet. She found one and stuffed it in a bag and gave it to him and said that is free.
When I washed the boys sheet set and dried it the set was actually a twin set and a full set and only for $2.50 Who can do that but the Lord. It is the set on the bed picture
He is still looking for 2 twin beds for the girls or another bunk set. He could not find any today he could afford, as he has to keep the rest of the money for us to get to Calif. and get the kids.
We will pray for the other beds. We will have to use a queen bed for the girls till we find the twin. It is going to be a surprise for the kids.
Also my oldest daughter in CA is trying to find posters that they like to put on the walls.
I will make some curtains for the windows tomorrow after we go to church. I will try and add that pict. after I get that done to this post.