Hello friends!
Sorry that my last blog post was a month ago. I am usually VERY good at doing blog posts regularly.
Long story short. From January to April 15th, my life is VERY busy since I work at an accounting firm. So we are down to the last two weeks of tax season which is hectic. But, after tax season, I promise to update my blogs more often.
Hope everyone is doing well!
As for me, my hubby and I are still running with the couch to 5k app. We are on to week 8 next week, which means 5k week and we become graduates of couch to 5k!!!! WOOHOO!!!!
We both keep eachother motivated and it's so awesome how when we are done with a run, how we are out of breath and panting and just feeling great overall. My husband mentioned that he would really like to lose weight and start to shop at stores with trendy clothes. He mentioned that in high school he used to be able to wear tight fitting tshirts and look awesome. I'm glad he has goals and I am glad we are both doing this together.
Well, now that spring has begun, I have to post a pic from one of our morning runs....I believe it was below zero degree weather with a negative wind chill. We were troopers! We still went out and braved the cold.....! You can see the frost on my eyelashes even! Pretty!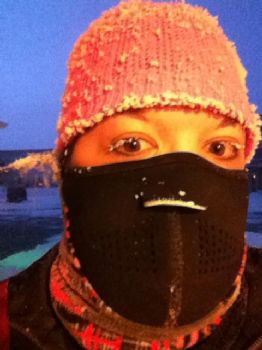 Now that the spring is here, we are looking forward to being able to run in much warmer weather.
A week ago, it warmed up a bit and I went out running without my winter face mask on. I felt naked. haha. I'll miss my winter gear.
Well, my next weigh in is on Monday and I hope it goes well. Last month I lost 9 pounds!
This month, I have been doing the same stuff, but I think I have been going a little overboard on the junk food. We will see what happens though.
Have a wonderful Easter everyone and talk to you soon!