Sunday, March 24
apt bldgs in Shanghai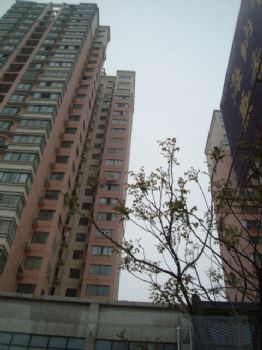 Today was travel day. The hotel started the breakfast buffet half an hour early for us (6:00 instead of 6:30) so we could eat before departing. Started out on a bus (left at 7am) to the smaller airport in Shanghai. Flew from there to Wuhan. When we arrived in Wuhan, we were served lunch at the airport.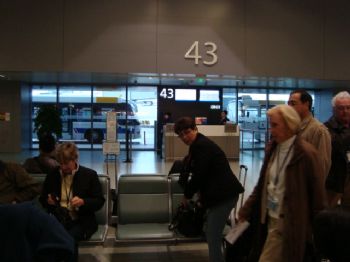 Got on another bus for a long drive to Yichang. Our guide for the bus trip was Season. He is married with one child. Because he is Han, he cannot have more children unless he wants to pay for the privilege. Had two "happy place" stops along the way. Toilets were 'asian style' which was fine but the smell…whew! Finally arrived at the ship, Yangtze No. 2, around 5pm.
lions guarding store near 'happy place' stop #2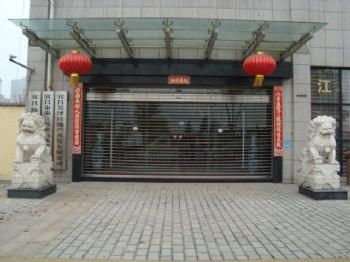 After finding our cabin, we went to dinner. Our luggage was delivered to the room. We hadn't seen it since Saturday night so that was nice. It traveled all that way without any effort on our part.
A meeting was called for 8:30 so our cruise director could give us a safety talk and let us know what to expect for the next few days. I couldn't keep my eyes open and fell asleep several times during the lecture. Needless to say, I went right to bed when we got back to our cabin.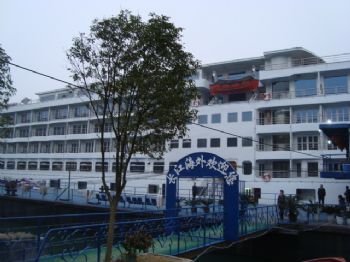 One thing we noticed today was the change from city to country. Shanghai is huge with almost no open land. Everything is built upon or being torn down to be built upon. There were a few parks and gardens but the percentage of open land to covered land was very small. As we left the city, the land changed from flat to rolling hills to the beginning of some larger hills. There were lots of farms visible from the highway but I did not see any ranches. When we got to Yichang, it was city again with huge skyscraper apartments, no open areas. I noticed the sidewalks are also parking areas.
outside of Wuhan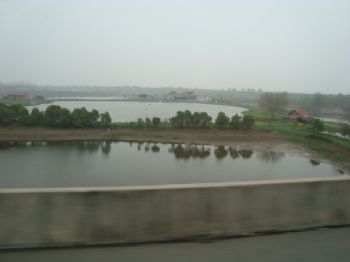 All of the land is owned by the government. People can buy a home for a certain amount of time but they cannot buy the land. The people are allowed to have religious beliefs now but they cannot 'preach' in public. They can gather together to talk about their beliefs as long as they get permission from the government first i.e. having a weekly church service.
Amanda told us there are 56 different 'peoples' in China. The huge majority are Han. China does have a rule that each couple can only have one child but there are exceptions. One exception is for the minorities. They can have two children. Farmers can have two children if the first child is a female. If two people marry and they are both 'only child,' they can have two children because the children have to take care of the parents, grandparents and greatgrandparents on both sides of the children's family when the children marry.