I am finally back to my old self after a triple whammy of illness, injury, and other issues that left me out of commission for about a month. Through all of this, I have learned what truly defines 100%. In short, 100% is defined by how you do in your present condition not by how you used to do.
100% is based on the here and now, not by previous best.
In the times of my life where I have been sidelined, I struggled, always remembering what I used to be before what ever it was happened. If I was to run, it was always be against the times I used to have. If I was to lift weights, it was compared against my previous bests.
Such comparisons are fruitless and undermining.
100% is defined by the effort and heart you put into what you do based on the present tense.
During my back strain, I had to hang on to the walls to make it down the hall to the bathroom. No lifting, no workouts at all.. I was out of the game. When I was recovered from that issue, I got bronchitis. A mile at 3mph left me sweating profusely and gasping. My scheduled workouts were reduced to minimal and what I did, was done in a state of total depletion. I could see the concern in my trainers face as I would stop in the middle of an exercise, wheezing, coughing, and trying to clear my airway. Don't get me wrong, I was in no way being pushed, I was doing what I could to maintain some sort of momentum. Trust me, there were no heroics. I would stop, use my inhaler, recover, and get back the best I could.
During those workouts, I gave it 100% every time, all the time, even though I was only at a minute fraction of what I am truly capable of. I pushed through doubt, fear of lost fitness and my fear of weight gain during my down time.
After the illness was all over with, I felt like a lump of jelly with no endurance, like I was starting all over from square one.
Yesterday was my turn around.
I hopped on the treadmill at home and eased from a walk to a jog and then to intervals ending in a 4 mile effort at full bore. My breathing was excellent and I was sweaty and full of awesome. I then went for my 1 hr workout and killed it.
I'm back :) .
Some of my favorite "Go Get It" music I listened to to make my run EPIC...
**** I fixed the links.. they work now... ****
Sanctus Immortale
www.youtube.com/watch?v=
m60-e-DDrjo
Invictus
www.youtube.com/watch?v=
F7CaZfe5z20
Spiritus Omnia
www.youtube.com/watch?v=
NWkEh7SNBnE
Maybe I have a really fertile imagination but I always envision myself in the heat of a race and really pour it on... I tap my inner champion and it feels really good :)
Now for the good stuff...
-I am down 3 pounds
-I got measured and I have gained 1" in my biceps, thighs, and lost 1" from my waist.
I am just a couple pounds away from 120 lbs lost. Yup, that is EPIC :)
My 70.3 Triathlon is coming up August 11th, approximately 4 months to train before taper. Can I do it?
YUP!
When I trained for my marathon, I was marathon ready in 4 months. While losing all of this time was a setback for sure, I am not out of the game. I feel strong and am ready to move forward. Careful periodization, rest, and recovery in my training is key. No room for heroics and overdoing it, just a slow, careful ramping up of distance and intensity.
How can I fail when I am giving it 100%?
Ebook and blog at..
mailboxes2miles.blogspot
.com/
**** Just added ****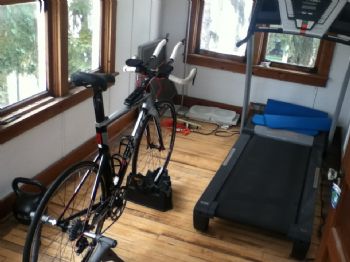 Today - 5k treadmill...20 min bike = A 100% Epic second day of training.
Sunday... Kettlebells / Cycling
Monday..Personal Training Session 10am 1 hr / Cycling
Tuesday- Swimming / Treadmill Running / Cycling
Weds - Personal Training Session 10 am 1 hr / Cycling
Thurs - Swimming - Goal- 1 mile / Treadmill running
Friday - Personal Training Session 930am 1 hr / Cycling
Saturday - Long run
Sunday - REST :)