Chicchantal and I were determined to have a walk over Easter. So Good Friday saw me winging my way across London, on the Central Line out towards Epping again. This time we were going to a little village called Theydon Bois, (lovely name isn't it). As usual, I was ten minutes early, and Chicchantal, having less distance to travel, was ten minutes late! I have found this to be almost a universal law, that the further I have to travel, the earlier I arrive. If it's only round the corner, I'm invariably late!
Although the wind was still vicious, and I didn't want to take my gloves off, the sky was blue, and the Sun was shining.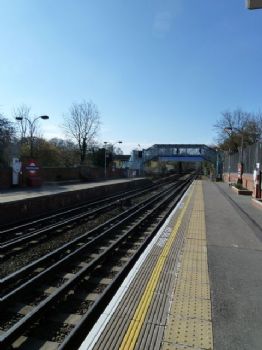 You could feel the warmth of it through ones double lined, polar fleece!
Theydon Bois is one of the prettier, countryfied stations.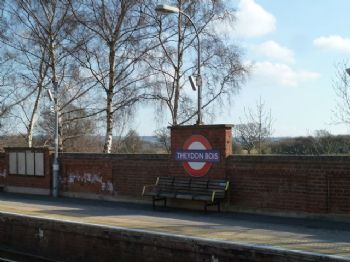 Chicchantal arrived on the next train, though I hardly recognised her without her trademark woolly 'at. We set off, at some speed towards Debden "bloody" Green. So christened by Chicchantal, because of the amount of times she'd arrived there unintentionally. I think the idea was to start there this time, and walk away, so that we wouldn't arrive unintentionally again! On the way we stopped to admire Theydon Bois's village pond.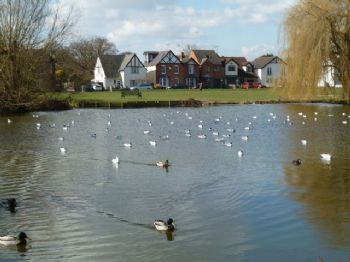 The Black Headed Gulls sitting on it, must have been as lost and confused as I already was, since there is neither sea, nor a cliff within a hundred miles of this spot!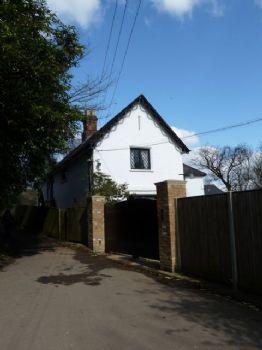 There are lots of pretty cottages too, but they're rather hidden behind tall fences.
I love weeping willows, and this one is just starting to come into leaf.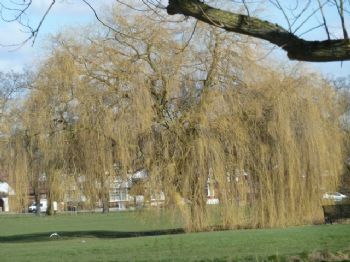 At Debden Green we turn right along a track that says it leads to a camp site. Chicchantal and I are already gently bickering about whether this is the right turning. As usual the Chicchantal Radar is right! Now we're into part of the forest that I have never been in. Chicchantal assures me that she has accidentally walked into Debden "bloody" Green on every path!!!
We are now going quite steeply uphill. Chicchantal remarks that she feels very unfit today! Between wiping my eyes, which are watering in the wind, my nose, which is running like a tap, and my brow, because I'm sweating like a pig, I actually don't have the breath to answer her!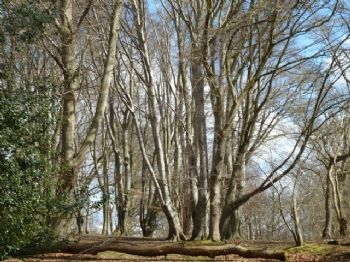 So I stop and take a picture, and pretend I'm not having to get my breath back.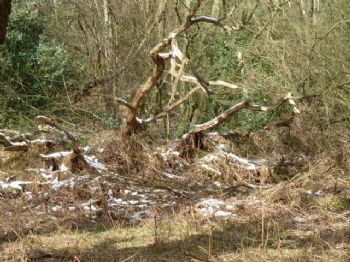 There's still snow lying in the sheltered spots under the trees, but it's lovely to see a little sunshine.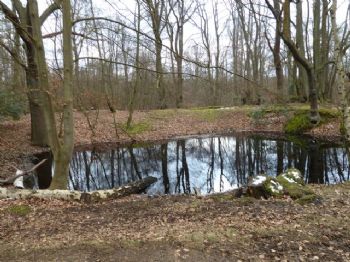 And some reflections in a tiny pond.
From Debden Green, we aim for our favourite tea hut, and stop there for our lunch and a cuppa, I have traditional egg sandwiches, Chicchantal has peanut butter, AND she's brought a buttered hot X bun each for later. Yum!
It's quite busy, and obviously succor for both man and beast!
After a short rest, and you didn't want to sit too long in that wind, we crossed back over the road and started to head towards eventually, Queen Elizabeths hunting lodge, where we finished one of our walks before, but at this point Chicchantal, bored with the path, decides to go 'off piste'
There is still a lot of mud
We are looking for a small body of water called Blackweir Pond, which will be impossible to find once the undergrowth and trees are in full leaf. Using a combination of paper map, and GPS, we find it.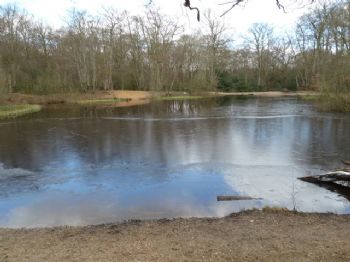 And very pretty it is too. There is still ice on the surface.
The trees here are very old, pollarded beeches.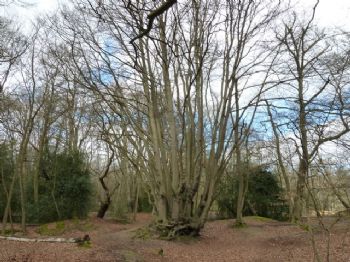 I am by now, even more completely lost.
We tried, when we got back to a path Chicchantal recognised, to memorize some landmarks to find it again, but I am totally lost! In fact, I'm sitting at home now, looking at the map, trying to recreate the path we took, and although I can see places we visited, I still can't work out the exact route we took! So apologies if the order of events is wrong!
The next couple of miles passed uneventfully.
I took more pictures, of a stream,
And a culvert.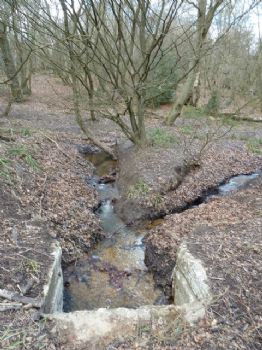 We came to point where we had to make up our minds which station to go back to, and I chose Loughton. This gave Chicchantal an opportunity to join up two previous walks.
Then we came to a three way split in the path, Chicchantal with the map said left, and I, with GPS said right, and I discovered a fundamental flaw with my phones GPS system! I had always assumed that, 'up' was the direction I was traveling in, and it obviously wasn't! Not only that, but if I tried to turn the map round, it righted itself the wrong way up!
So for the last couple of miles I heard, 'are you sure you've got the map the right way up?' Justified too! I should know not to argue, Chicchantal radar is invariably right.