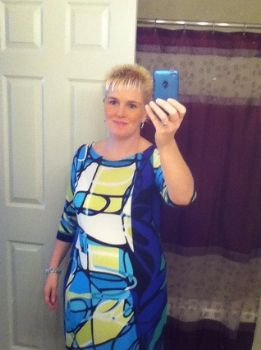 I started off as this... :) Happy... ready to conquer the world...bring the day on!
Oh man did it ever lol.... I started my day y jacking at my new job.. so what that measns as I was listening to the other person speak tot he customers as I typed in and navigated the mouse thru the nessassary screens.... then I was pulled in to get Certified to speak all the legaleze on the phone with customers because of all these blah blah blah regulations.. well the person that was "testing" me made nervous... and i got anxious... i never get like this but all of a sudden tears are streaming down my face and I couldnt stop them if i tryed.... so i calmed down... they were making jokes abot when they first started and how they were lol.. so i cleaned up and went back to y jacking withmy friend.. and then at one call *probably because it was a consolidation of accounts and confusing* he took the keyboard back and i started to lose it again.... I dont know why I was hyper senstive at this point i think... one of themanager came over took care of whatever need to be taken care of and he was like you ok.. and i started welling up again and he is like oh my you will be ok lol.... I got your back its ok.. blahbalhbalh.. and all these things shuld have made me feel better but it just made me more upset LOL. such a goober...
Then a different manager came over and said ok you ready to take your first call..and I lost it... omg I completely melted down lol.. so he pulled me a office and handed me tissues and awe sat there as I tryed to talk LOL.. gasping for air... as I was trying to tell him What a frigginType A personality I have and How i feel I am not ready please just let me do what i have been doing so i can feel a little more comfortable.. so maybe i can get it under my belt a little more.. and I am still crying as I type this lol.. .. goober alert goober alert LOL.....
So we talked he tryed to make me feel better but it is I know when I am rady i cant be bullied or pushed tor forced to learn something or feel like I have been thrown in the frying pan so to speak... I have never sen so many people concern that i was going to walk out the door... LOL. they begged me to keep tryying.. and so i went out my car and relaxed and breahted in to my hands to get me to calm everythign down.... and then fanned my face because this white girl gets blochy red face when she cries lol.* so attractive* so when I finally calmed down. I walked back in composed and ready to help my Y jack friend again.. and finished my day out.. i went to log out in a different room and said my good byes.. and they said bye see you soon.. dont worry about anything.. you will be great have a great weekend.. and I started welling up again so I left.. just kinda waved and left.. lol
so from there went home grabbed the check book that i forgot.. brought the trash out too.. went back in tot he car and went to cvs to make sure all my prescrips were done and see if I could add one more.. and they said yes so i left and said I would be back later to get them all...
This is were I am proud o myself... I picked up a few bags of m&ms *the big big size* and put them back and then picked up a chocolate bunny and put it back then I picked up a canburys eggs.... and I Stopped and was like NO you dont need this you are just upset.. get back in the car and get a coffee and go to the laundramat..... now i have gone wheat free.... but all the way to the DD I was like maybe i will get a plain donut... yea or maybe a couple of munchkins ... OG i said out in the car OMG stop it you DONT need it you are just reacting to a BAD day .. to your emotions..... *wow *
So i made it thru dd with just a xl frenchvanilla coffee *cream and sugar of course* only way i drink it lol there
got to the laundramat.. and i was ok talked to a few people there got my clothes going... went to the library and dropped of the books i had out .... then went to the bank for cash .. then went to my gym and paid this months bill and cancelled the membership because they are cutting itfor me...a nd even spoke nicely why i am no longer wanting to go there.... then went back to the cvs... and thank god i check things.... my arse hole new doctor instead of giving me my 90 day med he backed it down to 42 for the month... i was like grrr. then Thankfully i checked what i like to call my walking med... they gave me enough for 3 times a day but my script if 4 times a day and they owed me 30 more Ugh seriously....
Finally finally just got home at 5 20 ish and i went pstairs directly and said hit ot he birds on my way up.. and changed into my pjs took out my contacts and wrapped my self p in my heated blanket..... and called it a day... and started balling as I was writing this so i had to stop for a few minutes and explain what happened today in even greater detail to my husband... as tears streamed down my face.... I will put this day to bed soon and just call it a day... and if you made ithis far in my novel i am impressed... so EVEN though I had a day.... I didnt turn to chocolate binge I could have done... or the gorging on wheat with my coffee with donuts... so.. I am proud of myself.... I have more restraint then ieven realize.... :) I will take THAT as a win....
but I will leave you with my best friend who is snuggling with me at this very moment on my shoulder.... this is my little colorful baby... Cosmopolitain (coso fo short )... hugs and love thanks for being here I love all of you!!!