Friday, March 29, 2013
I am so upset right now! My poor cat (Grover) most likely has cancer. Man I hate that word so much! I noticed a pink flesh like growth/cyst last night on the back of his leg. The vet says it is most likely a malignant mass. He has to have it surgically removed next week and we'll get more information from the biopsy.
The kicker is that according to the vet this may have been caused by his recent rabbies vaccination!! According to its characteristics- how fast it grew and its location is right in the area they would've given him the injection. This condition is called Vaccine-associated sarcoma and can happen at anytime with cats! This is so upsetting! Here I am always trying to do what's best for him and get him his reccommmended vaccines and instead he gets cancer! I feel so awful!
He is a Korat and he is approximately 11 years old. We got him at a shelter in feb 2003. He is a very funny, smart, dominating cat. Sometimes we swear he thinks he's a dog. I have to say we have been so lucky he has been healthy his whole life and this was our very 1st "sick visit". I don't know where we'll go from here. As of now I don't think I would put him through any extensive cancer treatments but we will have to wait and see I guess.
Sorry about this blog. I always try to keep things positive here but just needed to vent today. Thank you for your support. Now I've got to turn this frown upside down and celebrate with family- we are having a party tonight for my youngest son- he turns 4 tomorrow!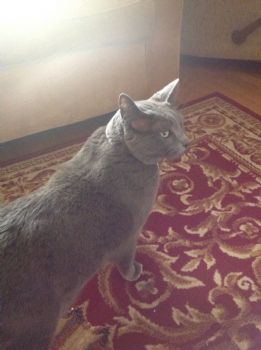 . My beautiful kitty Grover