Forget the SCALE
Friday, March 29, 2013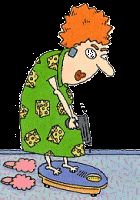 (Disclaimer: Though I DO have red hair, I own no handguns and no scales were harmed in the writing of this blog)
I've worked hard this week and it hasn't shown up yet but I know from experience NOT to be upset. Scales are on their own timeline. And I should really only check once a week, in the morning, without clothes... but I'm so impatient that I peek.
But no more!
I'm still down 20+ lbs and enjoying the rewards of increased exercise, clothes that fit, eating healthier & better habits. "Slow and steady wins the race"
I'm not even worried about Easter dinner & the mini-feast we'll have. I selected a healthy variety of recipes and we'll have lots of fruits and veggies & a small slice of pineapple upside down carrot cake should all be able to fit into my daily calories if I budget properly.
And nice weather predicted this Saturday so I can get in an extra long walk outside.
This is all just simple math. Eat less/healthier and move more/exercise = weight loss.
No need for violence! Get out the frustrations in a kick-boxing class