Yesterday I found a gift on SparkPeople that I wanted to "buy" for myself. Amazingly, this gift was not to be bought with money, but rather, with a challenge and promise to myself. This morning I unwrapped the present… my very own 28-Day Bootcamp Workout Challenge! Just what I've always wanted!
Today my blog is all about starting to document those important ??? Who, what, where, why, and how??? For some day, hopefully 28 days from today, I will look back here and graciously say to myself, "See what progress you've made? Well done, well done!"
My 28-Day Bootcamp Workout Challenge intentions are simple and straightforward:
1. To discover that exercise is a natural part of my daily life
2. To put peace, joy, and fun back into my fitness
3. To kick start out of my current weight plateau



I dressed for exercise this morning and had DH take a photo of me as the challenge suggests. Wondering if any changes from 28 day before and after photos will be apparent. I do note that today on day 1, I am smiling… I intend to be smiling on day 28 also.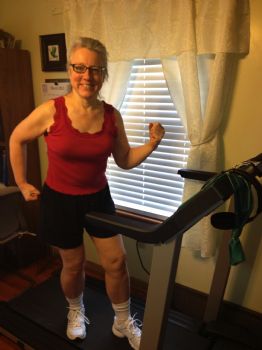 I took measurements noting that pesky scale crept up again out of the 140's… Thank you dear body for once again preparing yourself for weight release because that is what you are doing… Obviously! I honestly am not too bothered by my weight, as the other measurements are NSV's that thrill me just as much if not more.
Day 1 stats:
Weight: 150
Waist: 29"
Hips: 36.5"
Thighs: 20.5"
Calves: 17"
Upper Arm: 11.25"
First fitness this morning was a 20 minute preprogrammed segment on my treadmill. This "Certified Fitness Coach Program" was a stranger to me until the last week or so. It is already becoming easier. Yesterday I tried the 30 minute more advanced segment. Uh, not yet ready… but definitely moving in that direction… i.e. forward!
After lunch… oh, excuse me; my cat wanted me to include his "green spark eyes" photo… he is pretty handsome and is trying to use his good looks to trick me into letting him outside. He has cabin fever but, even worse, he doesn't know how to get along with the neighborhood tomcats!
So he continuously looks at me with those eyes and says, "Look at me, I exercise in spurts, I take lots of naps, and I like to play! I am naturally sleek and slender. I take "me myself time" and stretch whenever the urge strikes. You could learn a few things from the feline species." OK, Rusty, you are right, but can I get back to my blog?
Back to lunch…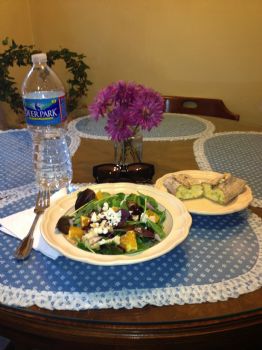 Ah yes, the Spring Mix salad with my new treat, "Low Fat Sesame Ginger" dressing marketed by a mature male actor, and an egg salad "flat-out" fabulous wrap, with Sparky water… Of course I've provided no direct endorsements to these awesome products that are serving my journey so well! And please do note the sunglasses... these are my mealtime reminder of the Days Until Summer Streak I am sharing with my Spark Friend Triangle-Woman!
After lunch, sorry for the repetition, I met up with my friend Coach Nicole for the Day 1 video part of my 28-Day Bootcamp Workout Challenge. OK, so I thought she was my friend, but she's a tough cookie, that one, especially on Day 1! I get to practice this video a few more times, thankfully, for the 7 daily video parts of the challenge repeat for 4 weeks, thus the 28-Day Bootcamp Workout Challenge. OK, so are we clear on the math here?
What is crystal clear to me is that "challenge" is an appropriate title to my gift! Yep, I was challenged to keep up with my friend Coach Nicole even here on day 1 and even for just 10 minutes. If she wasn't so darn cute, supportive, and committed to helping improve my health… but she is, and I love her for that!
My day 1 ten minute video experience went along these lines: marching fun, good, jumping jacks, yes, great, squats, uh excuse me Mr. Hip and your twin??? Lunges! Oh, what now, Mr. Knee, you got a problem? Slow it down. Coach Nicole says work at your own pace. Mountain climbers? Not bad, here's half credit, next time we'll go for 60 – 70%! Back of throat has that slightly burning dry feeling.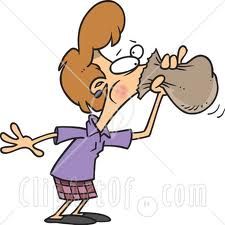 Breathing hard, OK, not bad. Oh, Coach Nicole says we're starting to cool down now. Yes, thank you, you are my friend. Heart pumping carrying oxygen throughout my body, good. Stretching now, ah, that feels awesome. Yes, I deserve to feel awesome. Stretch, stretch, heavenly joy and delight! Oh, Rusty…
Well, there I have it! Day 1 and the beginning of my challenge documented! Not committing to a daily update blog, but I will check in every once in a while… as I continue to use this gift I found on SparkPeople. Many are the gifts; we just need to open them… and put them to use for our rusty selves... or our cats named Rusty.
Carry the Spark within you and share it with others. It is a gift that cannot be extinguished… it is eternal and abundant! Spark on!