Thursday, March 28, 2013
I had a decent tax return this year. And since I'm not traveling, nor am I yet bringing my fiance Levi up here till we get past the bureaucratic paperwork, I am saving money towards a return trip to Peru, hoping for NEXT year.
When I left for Peru last summer, I weighted 226. I lost ten pounds by the time I came home, thanks to all the fish and the fact that I'm not big on rice, and heat takes my appetite...plus my walks with Papito Eladio. With hard work, using Spark's trackers, I've managed to lose another 13 more. These photos from 2011 had me weighing in around 215, I think. My little Peruvian friend is Vicki Campos Ayasta, who is like my little sister. She's a mighty prayer warrior, and it's amazing what bearhugs she can give! I am thinking of "employing" her to accompany me when I return and travel outside of Lima, as she did in 2011. We made a great team then!
Enjoying "helado" (ice cream) in Chiclayo, Vicki's home town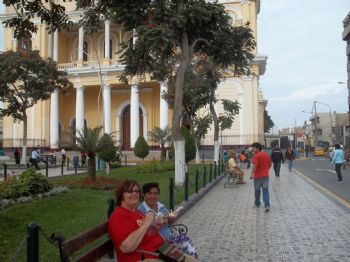 Vicki and I above the streets of Quito, Ecuador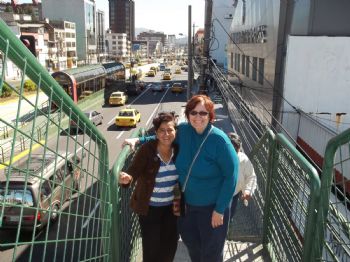 With Pastora Nubia at her favorite market in Quito, Ecuador