Thursday, March 28, 2013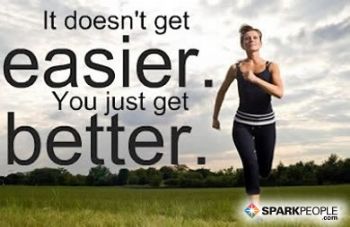 The first time I saw this on Coach Nicole's Facebook page, it really resonated with me. I love taking the PiYo Strength class at the gym because it's a REALLY challenging workout for me. The first few times I took it I was very sore afterwards. Even now, it's still a tough workout, but nowhere near as tough as it once was. There is another woman who takes that class every week as I noticed how deep she was squatting and I thought, "This is how I make it hard again!"
And thatís how healthy living is, right? You keep going at something, whether it be exercising, or making good food choices, and over time making those choices don't seem as much of a big deal. Those choices you make, time after time, add up... Especially if you keep on adding more. And keep on keeping on.