Inattentional Blindness
Thursday, March 28, 2013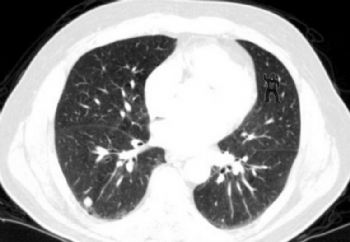 Notice anything unusual about this lung scan? I know, I know, you don't really know a lot about lung scans, so it all looks pretty unusual to you, right? But there are a bunch of people around who are REALLY skilled at looking at pictures just like this and reading them very easily ... Radiologists. Harvard researchers found that 83% of said radiologists didn't notice the GORILLA in the upper right portion of the image. Oops!
Well now, in their defense, they were not looking for gorillas! They were looking for cancer cells. That is their specialty. They were looking for what they know, for what their skill set gives them mastery over every day.
So what is it that you are sooooo very focused on? Which forest are you looking at so intently that you cannot see the trees? Is it your calories? Or your exercise? Or your fat grams? Seems, according to the researchers, that what we're thinking about with such absolute focus truly does filter the world around us such that it actually shapes what we see. And when that happens, sometimes we miss what is right in front of our face.
For today, take a step back and get a different view. Maybe it's not the total calories that are the problem ... perhaps it's the fast food that makes up the calorie content and slowing your weight loss. Could be it's not the amount of exercise being done, but the action in the kitchen undoing the benefit of the exercise. Or let's look at that sleep schedule ... not getting enough will simply unravel our dietary efforts because of the increase in stress hormones. With a restored view, you can have a new focus on the same journey!
If you'd like another go at your own Inattentional Blindness, I have a challenge for you ...
www.youtube.com/watch?v=
z-Dg-06nrnc
Enjoy your new view!