Wednesday, March 27, 2013
This morning was so cold!! We had a low of 36 degrees this morning - Even my bones ached!! I will be so glad when this weather stabilizes!!
The only good thing about the cold weather is that I'm getting my sewing project done. I'm making a Cherokee ribbon shirt for a friend of mine, and have only the button holes and buttons on the cuffs to do.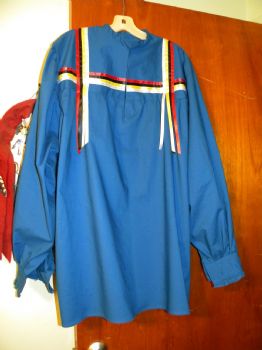 The ribbon work is the same on the back, and honestly is the hardest part!
I did manage to get some tilling done in the garden today. I figure if I do a little bit each evening, I should be able to do some planting by the weekend. I'm always amazed at how well that little tiller chews up dirt! I will spare you pictures of tilled earth, and save the photography for when I have some vegetables coming up!

Well, folks, I'm going to put my jammies on and crawl into a nice, warm bed! Hope you all have sweet dreams!