Sarge
Wednesday, March 27, 2013
Last fall we noticed at the end of the night Sarge was a bit stiff after laying down for a while, but once morning started he was in full gear. I started him on Glucosamine Chondrotin tablets for Dogs. I didn't seem to be working as good as I had hoped for. I had just told DH we need to start using Missing Link for joints. Even though it is a bit pricey, and we are on a budget, he agreed. In fact all of our dogs could use it. Then Thursday hit. All of the sudden Sarge was having a lot of trouble getting up after laying down, and is walking super slow. I have never seen anything hit a dog so fast. Luckily he is eating well, and still has interest in car rides, and will take a small walk on a leash. Tomorrow he has a Vet appt. We are trying a new Vet not far from us. I have heard good things about this place. The gal that answered the phone was so compassionate. Plus it sounds like they will work with a budget in mind. I told her DH has been out of work for a year and a half. I am hoping it is only a hip problem, and can be controlled with meds. so Sarge can start feeling like his ol self again. Please pray for Sarge. I adopted him at 6 months, he is 9 1/2 yrs. now. He never forgot I was the one that picked him out, and took him home. We have such a deep bond. It took him longer to warm up to Dennis, but now they are good pals.
He loves going to Starbucks and getting a treat now and then.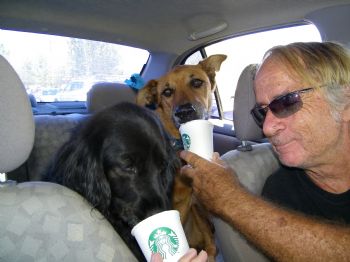 He is such a gentlemen in the car, and we can take him anywhere. How I love his sunny disposition. I sure hope the Vet can come up with a solution so we can start seeing him smile again.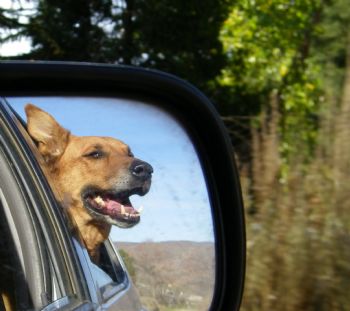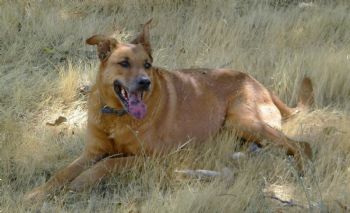 Member Comments About This Blog Post
REMEMBER2BME
This jumped out at me earlier in the week and then I ran so short on time. I sure hope all is ok. I will read the next blog.


1634 days ago

DOLLYHOLLY


Gorgeous dogs. I'll keep Sarge in my prayers.

You and yours take great care!




1636 days ago

PSMITH3841
Poor Sarge, we had a Golden/Shepard mix with the same problems....The meds worked...we were able to keep him active and comfortable for another 4 yrs....until the ripe old age of 15!


1637 days ago

PCOH051610
Just reading this now but I've said a prayer for Sarge! I've loved him from afar since you and I became Spark Friends.


1639 days ago

IDLETYME


Sending thoughts and prayers to Sarge (and his Mom & Dad) for his swift recovery. He has brought so much pleasure to your readers as well as to you. We love him.


1641 days ago

NEWSTART127
Hope Sarge just overdid it - I know I get stiff already when I do too much! We give our older one glucosomine, too. It seems to help after a while. There's also a product for horses/dogs called "Sun Gold" - we used to give it to my horse and it sure perked him up... it was yucca, anise & something else, if I can remember correctly. Hugs!


1641 days ago

MARLINDA5
Aww I will be praying for Sarge - he is such a cutie - and I am hoping they can give you medication that will help him and that the doctor works with you to be able to give him this medication.




1642 days ago

WALKZWDOGZ
Oh gosh. I'm so sorry about Sarge. I have 3 seniors & I'm just in denial about them being anything but puppies. Please know we'll be praying!

Have you tried an MSM supplement? It helps some dogs. I've given my Bassets the Costco housebrand or NatureMade glucosamine/MSM for humans. It seems to help. Any of that stuff can take weeks to really show a difference though. I hope the vet can find something that helps Sarge!




1642 days ago

SPLASHDOG1
It's so hard to see our pets get old. We love them so much and hate to see them suffer, even though they never complain and still love us just like always! I've gone through this a couple of times and it never get's any easier. Sarge is such a pretty sweet boy, please give him some pets and loves from me. I hope the meds will make him feel better.


1642 days ago

SOPHIEMAE2007
Hope he is feeling better soon. I am waiting for Murphy to wake up one day and not be able to use his leg he had surgery on, but so far so good. He just turned 11 and does a lot of sleeping now.


1642 days ago

PICKIE98
poor baby boy! When Pooky started getting stiff, I just gave her MY glucosamine,, vet said, sure, why not? Also gave her Puritans Pride pet vitamins to keep her immune system okay. Give 'ol Sarge a slobbery kiss from me, would you please?


1642 days ago

SWDESERTLOVER
I'm sending prayers up for Sarge and hoping the new vet can help him to feel better. It's so hard watching our furry family members age and have health problems. They are just like our children and we want them to be happy and healthy. Give Sarge a big hug for me also and let us know how he is doing.




1642 days ago

KLAD_COCKERS
Fingers crossed for Sarge . . . I hope it's nothing serious.

That picture of him with his head out the window is AWESOME. That one should be framed and on the wall.


1642 days ago

OLDERDANDRT
Oh, Jeanne, I feel for you! I will be keeping you and Sarge in my thoughts and prayers! I can't express how glad I am you were able to find a vet who will work with you! ( I love my vet, but he won't budge. It's payment in full at the time of service. The most he's ever been able to help me is to let me give him a post-dated check of about a week! He really does have a good heart. )
I really, truely hope you can get Sarge feeing better! He's young yet!
, warm thoughts and healing vibes for Sarge, my friend! And many for you!!!


1642 days ago

TCANNO
Good luck with Sarge Jeanne, I hope all is going to be well


Fingers XXX




1642 days ago

AWESOMECHELZ


You know, my friend? I cried when I read your blog and saw the photos of your dear dog, Sarge. I love animals and love my cats, and I understand your pain. I will pray not just for Sarge but for you and your hubby as well. You guys are my kind of people. Love, Chelsea

For you Sarge:


1642 days ago

WINE4GIRL
I hope the vet is able to help Sarge. That's wonderful they can work with budgets. Still praying for employment for your DH!
Hugs and many blessings to you.



1642 days ago

HELEN_BRU
Poor Sarge!


1642 days ago

CARLANNIE
Isn't it hard to watch our furry friends, knowing that they are hurting? They can't verbalize it the way we can. Or rather, the way I would: "Owie! My hip is REALLY hurting today!" (My husband has learned to just listen and nod his head and just give me a compassionate look.) Hope the vet has some answers that help. Misty has arthritis quite badly now (she's 13), and struggles to climb the stairs. Fortunately, the new house we're moving into only has 3 steps going into the house! It will be nice for her. (((HUGS)))


1642 days ago

EFFIEANNIE
Oh, I hope it is not bad news. Keep us updated.


1642 days ago

SHERIO5
Praying that God will give the vet wisdom, and that your fur baby will be his old self again soon!


1642 days ago

CMKARLS
Good luck.


1642 days ago

KRAZY4KATZ


I hope Sarge is okay and that you post an update. Bless his heart. It's not easy when our fur babies are sick.


1642 days ago

0309COOKIE
Oh, my sweet Sarge! In case you didn't know, he's my favorite, lol. Don't know if a pup will drink this or not, but my mother swore by this for her arthritis: 1 tbsp honey mixed with 1/2 tsp cinnamon in a cup of hot water twice a day. She said this really helped the pain and stiffness. Maybe you could give it a try. Hope the vet has a good solution for him.


1642 days ago

TWEETYKC00
Dear Sarge, I hope it is nothing too serious. Give him and all the pups some lovin from me.


1642 days ago

MARTHA-ANN
Poor Sarge, hope you manage to work something out and he's soon feeling better...I take glucosomine chondrotin for my knee, it takes a while before you see any difference but it defintely works!


1642 days ago



Comment edited on: 3/27/2013 4:58:51 AM
NISSANGIRL
I am so sorry to hear this! glad that u found a vet that is willing to work on a budget, Sending prayers and good thoughts your way!


1642 days ago

1BEACHWALKER


I know my vet said he gave his dog glucosamine for his bad arthritis and he moved like a young dog after that. It takes awhile to take effect. I use it myself and what a difference it has been for me...less pain and it does help rebuild the cartilage a bit. My Dr. highly recommends it too. It took a month or so to feel the difference. Hopefully the new vet will guide you on which and what is best for Sarge-maybe a higher dose. Hope it isn't anything serious. Poor guy! Such cute photos! Even Sarge knows Starbucks is the best!
He is in my thoughts and hope he feels better soon. They are like our children and I totally understand how you feel about them!
By the way, we got the photos of the twin baby sandhills! So happy about that! Will post soon...Bob just uploaded them tonight.
Keep us posted on Sarge!


1642 days ago

KATHYSCOLLIES
Jeanne, I will definitely keep Sarge - and the rest of his family ... the four-legged as well as the two-legged - in my thought and prayers.

Meaganne's lad Phoenix has joint ( as well as lots of other stuff too) issues. He gets a variety of supplements to help him, some of which is human products that we buy out at Costco. Everything he gets has been approved by our vets before we started giving it to him.

Here's the list....
2 capsules daily - Omega-3, 420 EPA 280 DHA, 1200 mg each (Kirkland brand - Costco - 300 capsules / bottle, about $20 -$25 / bottle)

2 capfuls daily - Glucosamine & Chrondroitin (Wellesse brand - Costco - about $20 / bottle)

1 "cookie" daily - Natural Defense Joint Care ( this we can only get at WalMart now, 7 'cookies' / package - about $6 / package)

1 20mg tablet daily (the 20 mg tab is for dogs over 50 lbs) Oximunal ( 50 tabs / bottle for about $35) We order it from : http://www.oximunal.com (it's a Canadian company, but apparently is now shipping to the States too)

This is the person that Meaganne deals with directly at Oximunal: Jennifer Febel ---- j.febel@avivagen.com Meaganne says to tell Jennifer that Meagnne ( or Meags) Dodds recommended the product.

Phoenix still has some days that are more ouchy than others, but we have seen a very dramatic improvement overall in him, especially with the Nature Defense joint treats and the Oximunal. He's not quite as old as Sarge, but he's getting there - he's almost 8 1/2.

For a while we didn't think we were really seeing any difference in how Phoenix was feeling, so we experimented by taking him off each supplement for an entire week - one at a time. The biggest , dramatic change was when he was put back on the Nature Defense product and the Oximunal in their turn. It was a total WOW within less than 48 hours when he started getting them again.

I hope that some of this is helpful for you and Sarge!

Hugs,
Kathy


1642 days ago

SUSIEPH1


Sending lots of love, hugs and prayers that Sarge will feel better really soon . He is a lovely dog and I do enjoy you sharing him with us xx
muck love Jeanne and give Sarge a cuddle from me xx


1642 days ago

JACKIE542


So sorry, of course, I will send many prayers, sure hope the new vet can help. Big


1642 days ago

IRISHMUM3


Lots of hugs and prayers. Lucy says, "Get well soon!" She understands how much it can all hurt.


1642 days ago

ALICIA214


Chica says she hopes Sarge gets well soon she will say a doggie prayer for him. I know how concerned you must be no matter how many furry friends
we have over the years they all hold a special place in our hearts.
I do hope your new vet will be able to find what is wrong with Sarge and will be able to to help him.


1642 days ago

LATTELEE


Nice photos


1642 days ago

MADAMES
Praying that the vet will have an answer for Sarge. What a helpless feeling to see our animals suffer! You are such a loving mom! Hope Sarge will be smiling again soon.




1642 days ago

CHERIRIDDELL
Oh Jean rest assured I will be praying for the best possible outcome for Sarge .I will start right now.Please let us know I will be worrying over him !love & hugs,Cheri


1642 days ago

TXGRANDMA
So sorry to hear that Sarge is not feeling well. Good that you are getting him to the vet tomorrow, I hope it is something that can be managed with medications. Please keep in touch, and let us know.


1642 days ago



Disclaimer: Weight loss results will vary from person to person. No individual result should be seen as a typical result of following the SparkPeople program.
More Blogs by HICKOK-HALEY