Sarge
Wednesday, March 27, 2013
Last fall we noticed at the end of the night Sarge was a bit stiff after laying down for a while, but once morning started he was in full gear. I started him on Glucosamine Chondrotin tablets for Dogs. I didn't seem to be working as good as I had hoped for. I had just told DH we need to start using Missing Link for joints. Even though it is a bit pricey, and we are on a budget, he agreed. In fact all of our dogs could use it. Then Thursday hit. All of the sudden Sarge was having a lot of trouble getting up after laying down, and is walking super slow. I have never seen anything hit a dog so fast. Luckily he is eating well, and still has interest in car rides, and will take a small walk on a leash. Tomorrow he has a Vet appt. We are trying a new Vet not far from us. I have heard good things about this place. The gal that answered the phone was so compassionate. Plus it sounds like they will work with a budget in mind. I told her DH has been out of work for a year and a half. I am hoping it is only a hip problem, and can be controlled with meds. so Sarge can start feeling like his ol self again. Please pray for Sarge. I adopted him at 6 months, he is 9 1/2 yrs. now. He never forgot I was the one that picked him out, and took him home. We have such a deep bond. It took him longer to warm up to Dennis, but now they are good pals.
He loves going to Starbucks and getting a treat now and then.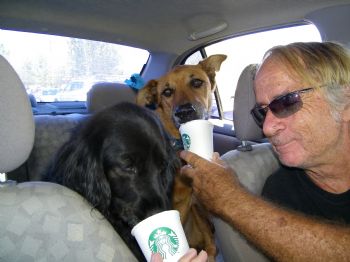 He is such a gentlemen in the car, and we can take him anywhere. How I love his sunny disposition. I sure hope the Vet can come up with a solution so we can start seeing him smile again.