Lots of things have happened this week and it has meant a few changes in our lifestyle.
One huge change is that of money or lack of, we get benefits and took out what is called a Social Loan to buy a bed and a new cooker ( stove), both were old and the cooker was past repair, someone made a mistake and did not take the payments to pay the loan off.

As there were changes in the amount we got I had not noticed the payments were not being made as the loan repayment comes out of our money before we get it.
So you can imagine my shock when a letter arrived saying we need to make the payments as they had been not taken out. I soon got on the phone and got an appointment to see someone.
Pain or not this needed sorting out so a taxi was ordered and off we went.
I was armed with the letters showing that we had accepted the payment amounts that they had asked for. I wanted to know why after sending the forms off and getting the letter saying they would take the payments out only two payments had been taken.
It turned out they had miscalculated things when the change over was made from one benefit to the other and were very sorry.
Result they are taking the payments out that they should have taken ages ago. That is fine we borrowed the money and it needs to be paid back.
My gripe was why had it taken so long for them to get back to us. You see we are now on even less money that when we had the loan as we are now on Pension Credits and that is lower than the amount we originally had.
So budget changes are a now under way again. I have sorted out what we have in the freezer and store cupboards so I can plan meals, along with finding what we can do without to help make ends meet.
My back and hip are slowly getting less painful although today it is very painful after sitting in rather uncomfortable chairs in the Benefits Office.
My Husband had been told the increase in dosage of his heart pills would work, think again folks it has not. So now we are back to square one in that department. So another appointment in May has been made to get this sorted out.
So what will be the third thing I wonder, they say things come in 3's.
So changes are in the wind one way or another, less money will mean being more creative with the meals so they remain healthy. Bulking up with vegetables to make things go further and bulk cooking will help. Planning meals for each week and making sure we stick to it as well, so I buy in what we need not want.
Good job I enjoy cooking

and creating meals with what I have to hand. Tonight we had a pasta bake that was full of vegetables, DH had not made one before so with my help we got a it done and have plenty for another day in the freezer. He thought we would not have enough for today never mind for another day, I told him bulking things out with vegetables makes a huge difference.
So not all bad just annoying that people do not do their jobs properly and yes maybe I should have noticed, but with all the changes this Government have made to Benefits it is no wonder that (A) Mistakes are made and (B) I did not notice. The news has just been on and more changes are taking place in the benefits system I wonder what other blunders will be made.
I changed my page as well to be nice and bright, the background picture is my garden last April looks different now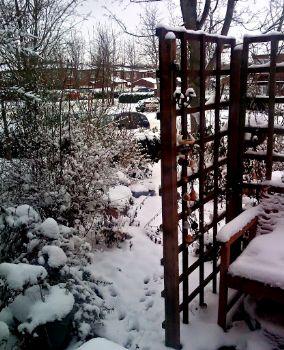 spot the difference!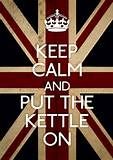 a cuppa always helps.