So I have been eating clean since Feb 11th and starting March 7th I increased my calorie intake. I realized that I am not really worried about a scale number anymore. I am good at cutting weight... I have perfected that over the past year, but I want to look better. I want to be tighter and more toned. I want to build muscles. In order to accomplish this your body needs food. Right now I am 133.2. My goal was originally maybe 128-130, but why? I don't know. It seemed like a good number. No one in the world knows my scale number unless I tell them, so I have abandoned worrying about the scale. I want my muscles to increase and my body fat percentage to decrease. When I had it tested on jan 22nd it was 27.4%. I am having it retested next month and am hoping to have it drop.
This picture really summarizes things for me right now. (*Note, this is NOT me. I found this picture online, but it really speaks to me that scales really don't mean a thing).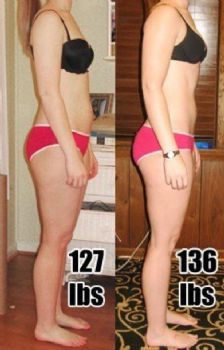 Right now, things are still going well. I am packing my boyfriend 5 meals a day in a cooler lunchbox. I started doing this on march 4th. So far it has been going well. He has been sticking with it and only eating what I pack (I log his calories and make sure everything is in his ranges). In the first two weeks he lost 4.4 lbs, so definitely moving in the right direction.
I have been doing pretty well with exercising. I had vertigo pretty badly two weeks ago and couldn't work out for that week. This weekend we had nice weather so I ran outside. I haven't ran outside in FOREVER! It was great. I did the 6 miles of hills going from my house to a nearby trail. It took me 77 minutes (exactly my 10k time from last Sept- but that race did not have any hills). I compared my times and paces from when I had done this hilly route before. The first 3 miles is mostly downhill and the last 3 is mostly uphill.
7/30- 95 minutes
Mile 1- 13:25
Mile 2- 14:12
Mile 3- 13:23
Mile 4- 19:43
Mile 5- 16:53
Mile 6- 15:24
7/31- 119 minutes
8/7- 85 minutes
Mile 1- 13:16
Mile 2- 12:55
Mile 3- 11:07
Mile 4- 17:44
Mile 5- 14:44
Mile 6- 13:11
12/2- 100 minutes (with a friend. Did 6.7 miles)
Mile 1- 16:41
Mile 2- 11:50
Mile 3- 14:51
Mile 4- 17:27
Mile 5- 18:02
Mile 6- 17:06
Last .7 of a mile- 12:23
3/23- 77 minutes
Mile 1- 12:33
Mile 2- 12:21
Mile 3- 11:52
Mile 4- 15:00
Mile 5- 12:35
Mile 6- 12:30
Last .03 of a mile- 11:56
I am quite happy that even though I haven't run for a while I was able to shave off over 2 minutes from the difficult mile (mile 4). I am looking forward to improving this even more. The first half marathon of this season is going to be the beginning of May, so it is quickly approaching. I am going to have to work up my mileage so I am better prepared than I was in Oct.
Here are updated pictures.
Stomach 9/22/12 (old picture of stomach skin)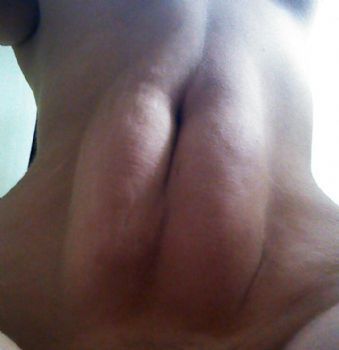 Stomach 3/15/13 (newest picture of stomach skin. It is slowly decreasing!)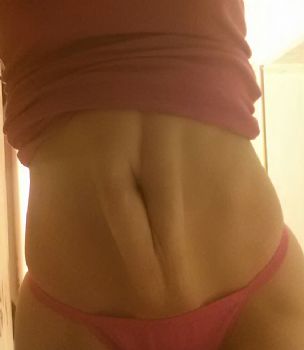 Muscles- I am noticing an improvement, even though it is slow moving.)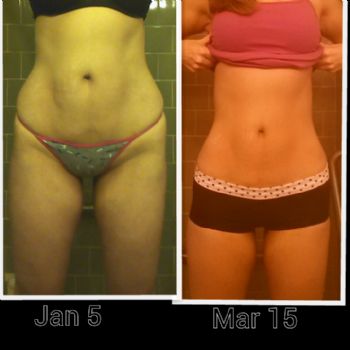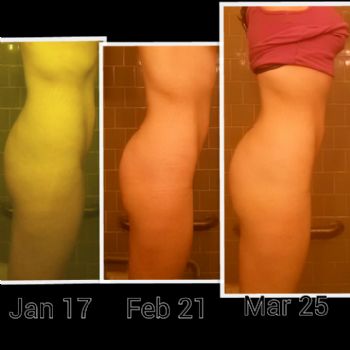 New running shorts and shoes (It has been a year since I bought my last asics. They are starting to wear out and my shoe size has changed... so I got myself some new shoes. The confetti Noosa's are for running and the GT2000's are for everyday wear. I also got myself some running shorts. Bring on hot weather! I am excited to try to wear running shorts for the first time ever)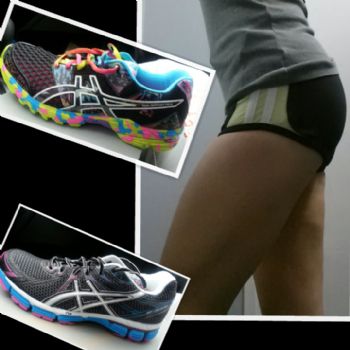 Nice date with friends on a nearby trail- I can't remember if I posted this or not. We went walking on the trail near our house with friends and our dogs. It was a slower pace than I am used to, but it was SO much fun to do something active. Here is a pic of my bf and our boxer)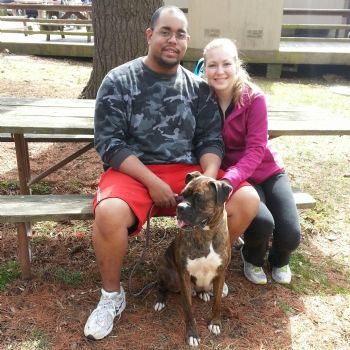 Trying on Bridesmaid dresses for a friend's wedding
Oh, I also forgot to add that I've had around 5 people from middle school, high school, and college contact me asking about some of the recipes I've been posting and a healthier lifestyle. Some of them are going to try a 12 week challenge and others are going to try some new things with foods. Spread that spark:)