We did Donning-Doffing, Ladders, Forcible Entry & Search/Rescue, Tools.
Our company was at station 2 with Donning-Doffing for a close to 2 hours. We threw our packs over and over until we all got close to a minute. Me and a few other guys have our gear under a minute no problem. Now I am working towards getting my air on, mask on and pack thrown in about 40 seconds. Right now I am sitting between 48-55 seconds. I could be a lot quicker! We talked about emergency operations, reducing your profile (crawling on our sides), and we also did a SCBA confidence course, where we crawl through a confined space where we have to either take our pack off, profile or take pack off. Then we crawled through a black sewage tube, which was all familiar, kept remembering my air tank's O-ring blowing. BUT thankfully this time I had no problems, and inched my way through the tube with a 45 min tank on.
(Black Tube) and a box we had to crawl through, then get out of a hose that was thrown over us, get untangled, turn our air tank back on (turned off by FF instructor). It was a hell of a fun time!
Ladders: We played with roof ladders and 24' ladders. The other group in our company got to play with a 35' ladder. I wish we could have because those are beast of ground ladders!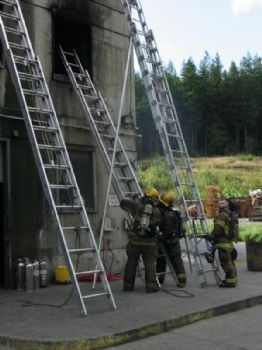 (funny enough this is actually up in North Bend where we will be doing our training in a few weeks).
24' ladders were a blast. Learned roof ladder techniques, raising and lower, and tying the halyard, things are A LOT easier this time around.
Need to work on commands though.
Search & Rescue- the best of them all. I guess I was too quick for my own good, adrenaline pumping and was taking off like a bat out of hell trying to find our downed FF and pulling them out of the "burning building". Also trying to find the victims when there wasn't any, still went super quick, even learned how to use my leg on the wall pushing myself out into the center of the room. Also sweeping with the tool, and also grabbing hands with partner and using arms or hose strap to sweep between us to search a room twice as fast. This was the MOST fun of the entire day.
Oh also got practice with forcible entry, got it open quick without really needing to drive the halligan into the frame at all. NEED more practice with harder to open doors. This is like just I dunno how to explain it ... but it's a freaking rush and I would LOVE to be on a Truck one day and be a Truckie.
-Did the majority of pulling out three of our guys, I was intense and on the ball and in Beast Mode today! Next time ... maybe will get teamwork, back was a little sore, hahahaha
Tools was the most interesting part of the day. I learned a lot and learned where tools on our engine were. Also how to use them in different ways, and what they're used for in a hands on environment. We also got to practice running an evolution using hydraulic ventilation. I was the backup hoseman for the nozzleman. Duck Walking ... phew after 7 hours of all day training was tough but I did it. It was mental strength that helped get me through.....
we cleaned up, I helped do a dead lay in the hosebed .... we rolled up hose, unrolled hose... I turned off the hydrant ( Remembered how to do it! Sweet!).
Made it through our first day! I canot wait until we have our next training day! North Bend is fast approaching!!! Yes!
Loved every moment of the day!
Even filling bottles for 4 hours after training helped me learn more and even got to go through the first responding engine and go through all the tools on it. One skill checked off my recruit skills list!
Bam! Thanks For the Support still everyone!!!!! I Wouldn't be here without support and ya'll believing in me!