I've been going crazy with the beach walks lately, but I can't help it. I love the ocean and I love that I can drive 20 minutes and enjoy it!
This weekend was a little different. I decided to sleep in (til 6 am!) on Saturday, so most of the day was spent running errands and doing stuff at home. One errand was to pick up a jump rope at a sporting goods store. During my Kaia workouts, jumping rope has been a big challenge. So I wanted to have one so I could improve on my own at home. I looked up the calories burned on SparkPeople to see what that was like. I was surprised to see that it said I would burn 110 calories in 5 minutes of jumping rope. I thought, "Yeah, right. There's no way it's that much!" So I headed outside and had my husband watch the clock.
Here I was thinking I could just bust out 5 minutes of jumping rope like it was no biggie. Um, no. It's hard! It's not as easy as it was when I was 10 years old! I had to break it down into 1-minute chunks and try to make it one solid minute. I never did. It's tiring, so I would eventually trip over the rope or somehow jump one leg on either side, or I felt like I was barely getting off the ground. So, maybe 110 calories isn't so far-fetched! I even encouraged (OK, I made him do it) my husband to try it. He had never jumped rope before, and it was a rough start, but he picked it up pretty fast. I was pretty proud of him! So, our goal now is to work our way up to doing 5 minutes straight, with a smaller goal of doing a full minute without stopping. Totally doable!
A little later, I called WOLFKITTY and my husband and I met her at the beach just before sunset. We went for a short walk on the beach, but it was nice to be out there.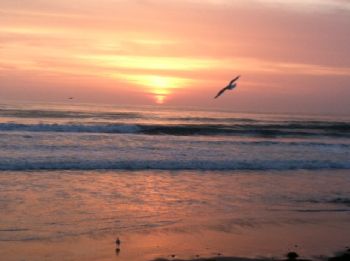 ***
On Sunday, I really wanted to hike Torrey Pines, so I dragged my husband and Jocelyn along again. I've only done this hike once and it was really, really challenging! When we hiked it previously, we started at the top, then hiked down to the beach and back up. I wanted to do this in reverse, mostly so I could stretch on the beach. I liked the picture that created in my mind.
Because of some scheduling things and mostly because I dawdled at Target beforehand, we didn't get to do the hike I wanted. We walked on the beach for an hour and a good pace and climbed around on the rocks a little. It was still a nice workout, and my favorite scenery, so I was happy.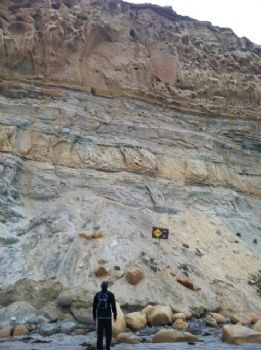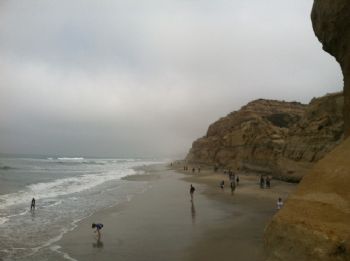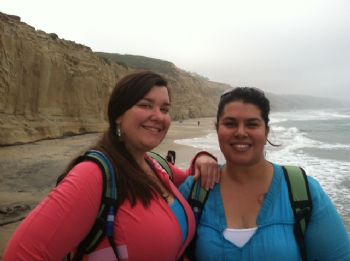 I was pretty happy to spend two days at two beaches during my weekend. It's exactly the kind of thing I wanted when I moved to San Diego a few years ago, but the first time I've actually done it. It's a goal not to let life get in the way of things that make me happy!
Have a good week!