The terror hit me again tonight, in big giant waves of panic and tears. I tried to hide my tears from hubby as he sat beside me in his recliner watching television. I don't want him to know how mad, afraid and sad I am. He is so brave and strong and upbeat. I certainly don't want to depress him. But now he's gone to bed, and I have the need to unload all my emotions here.
I am mad at cancer. And I don't understand why he didn't have it a year ago and today, a usually slow growing cancer, became a very aggressive cancer in him, and has already spread to his bones, and is at Stage Four. HOW DID THIS HAPPEN so quickly? WHY did it happen at all? If he had gone to the doctor when he should have, would they have caught it in time? Should the doctor have insisted on PSA tests every three months, as someone from the Cancer Center thought was protocol? It doesn't do one bit of good to be angry, and yet I am, and I'm full of regrets and wishing there was someway we could go back and stop it before it spread. But it's too late.
I am so afraid of him getting sick. I did not handle well, his discomfort and pain Thursday night in the ER when his catheter was plugged. I am not nurse-material. Never was. I hold those men and women in health care in such high esteem, because they have that caring, compassionate quality that I just never had. I simply fall apart, and I know I can't do that. I have to be strong. But I don't know if I can do it. And I worry about what will happen to me when he is gone. I will be all alone. I always hated being alone. And what about finances? Am I going to be able to make it on my own? Will he be able to work very long, because without his job, he has no health insurance. I don't either, but I'm not sick. The uncertainty is just awful, and yet I don't really want to know how long he has either. I want to be able to hope we have years left together, and yet every moment with him is so precious now. I look into his face and try to make sure I will always remember his look, his smell, his touch. I don't know that I can make it without him beside me. He is like the other half of me.
I feel so very sad for all the future we won't have now. He won't be there to dance with me at my granddaughter's wedding, which was a weight loss goal for me. She is only three, it will be many years before she marries, and the prognosis doesn't look good for hubby making it that long. We more than likely won't get to celebrate our 50th wedding anniversary in 8 years. Back when I was obese, I used to look in the Sunday newspaper and see the pictures of all the couples celebrating 50th and 60th wedding anniversaries. I always noticed they were not overweight. You don't usually live to see those anniversaries if you are obese, at least not as morbidly obese as I was. So I lost weight, and thought to myself, "Now, we will be able to celebrate those anniversaries." We were so young when we got married back in 1970, he was just 18, and I was 19, so to celebrate 50 years seemed like something we would get to do.
It just isn't fair and I'm mad and I'm scared and I'm so very very sad. It's so stupid to grieve now, I should enjoy this time we have left, especially while he's still feeling somewhat good. A week from tomorrow we will be heading to Washington D.C. for a trip we had put off for far too long. I want to be able to enjoy being with him and seeing so many wonderful sights in the Nation's Capital. But I know it won't be a carefree happy vacation like our time in NYC was last November. We both have such fond memories of that trip, and I think those memories are even sweeter today, when we realize how lucky we were, because we didn't know that even then, that damned cancer was growing inside of him. We could truly enjoy ourselves without that sick feeling in the pit of our stomachs. So I'm going to put on a happy face and maybe I will be able to fool even myself for a little while anyway.
But tonight, alone here in my kitchen, the tears just won't stop...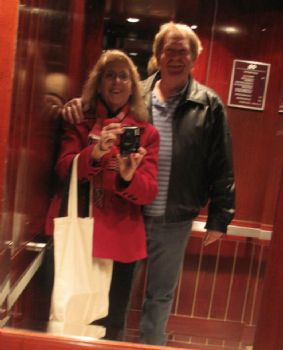 A self-portrait in the mirror in the hotel elevator in NYC. It's the only picture I have of us together from the whole trip.