Sunday, March 24, 2013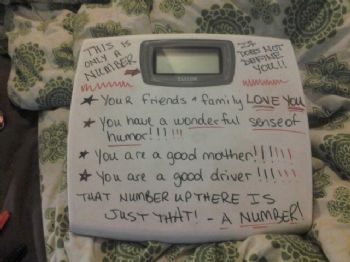 And this was my facebook status update on Friday:
Today is not a measure day or a weigh day, but I needed some encouragement for myself. As of today I have lost 13 lbs & 2 full inches off my waist. My hips have gone down to 1.5 inches lost and now they are back up to only .5 inch lost. I'm crediting that to all those squats I've been doing lifting that hiney! LOL! I've lost 1 full inch off my left thigh and 1 full inch off my left arm! AND just since March 14th I've lost a quarter of an inch from my NECK! That is 4.75 inches on the left side only! How did I do it? I made up my mind that this fat girl is NOT who I am going to be anymore! I made up my mind to be responsible for what goes in my mouth. I made up my mind to MOVE my body every day to be the BEST me that I can be! NO EXCUSES!!!