Sunday, March 24, 2013
I did not finish my 5K on March 16, 2013. I got there early. I ran into a few friends. I saw my boss - neither of us knew the other was running this race. About 9 minutes into the race, I took a hard fall. I tried to go to my knees and then I bounced and slid on my knees and fell on my hands. I wiped out my left knee, scraped my nose bloody, and my left wrist was not in alignment. I got up, walked to the medical station, got a cardboard splint for my left arm, and they cleaned me up. I called my husband & we went to the emergency room. Got some x-rays and a temporary splint. Of course, you have to wait until Monday to get an appointment with an orthopedic doctor. I called Monday, got an appointment on Tuesday, had surgery to put in a plate and screws on Wednesday. No brain damage - LOL. I worked from home for a few hours Friday - very slow typing. Went for a walk on Friday. Got my hair washed and styled at the salon on Saturday. Went to the gym and used the recumbent bike for 30 minutes today. I also took a shower, with my arm covered. I stopped taking pain medication and ibuprofen because I am not in pain. My bruised up left knee is still purple and sore. My nose is healed. I have a follow up appointment with the surgeon on Wednesday 3/27. I hope I will get my stitches out and get a smaller cast. I want to go back to work. I am bored. I also want to back to walking and running and races. I hope I will be able to walk the OC Half Marathon on May 5, 2013.
Day 1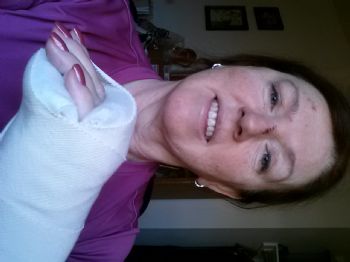 Day 8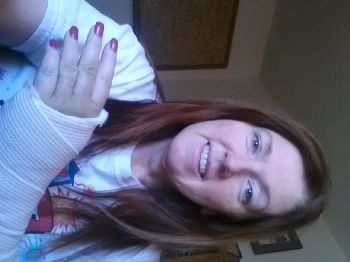 A collage of my various wounds!