The treadmill is a piece of equipment that I tolerate.
I definitely don't LOVE the treadmill.
But I don't HATE it either.
The treadmill is what it is - a piece of exercise equipment that does a reasonable job providing me a way to walk when the weather stinks or when it isn't convenient to get outdoors.
Given my choice, I'll pick walking in the battlefield parks or downtown or even doing laps on the farm over the treadmill.
But I don't DESPISE the treadmill.
But there ARE exercises and activities that I don't like.
Such as riding on the stationary bike.
My lovely bride and my youngest enjoy it though.
So do you know what I do?
Something else.
Given a choice and the flexibility in my schedule, I would spend most of my intentional calorie burning doing this: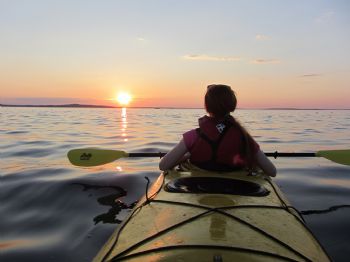 Paddling around a lake and enjoying a beautiful sunset, like the one here.
(I took this picture while in Bar Harbor, Maine. If you have the opportunity to visit Acadia National Park and Mount Desert Island, you ought to seriously consider it. If you like being outside, you'll find the carriage roads and the paddling and the hiking quite relaxing and wonderful.)
My point in this rather brief post is that YOUR LIFE IS TOO SHORT TO SPEND YOUR TIME WHINING ABOUT HOW YOU HATE TO WORK OUT.
FIND SOMETHING ELSE to do to get some exercise.
Join a dodge ball team.
Go for a walk outside.
Buy one of Coach Nicole's DVDs.
Take up geocaching.
Go for a hike.
Volunteer at the SPCA and walk dogs for them - or help out otherwise there... they can use the help, I'm sure.
Lift free weights.
Paddle a canoe or kayak.
Go for a swim.
Arguably some activities are more costly or require more setup and ceremony.
You'll need to decide what fits your lifestyle, budget and schedule.
Figure out what you like to do and do that.
And trust me - just because you aren't drenched in sweat at the end of that activity - like walking through the woods bird watching - recognize that that is MUCH BETTER than sitting on your butt watching TV or wasting hours on Facebook.
DO something.
DO something you like to do and you'll be more inclined to CONTINUE to do it!
And hey...
Make it a great day!
Matt