Thatís the weather report in London today!
I was reading a blog about gym membership not being necessary to lose weight, how you could be a gym member and not lose a pound unless you did something with it, and this motivated me to get up and go for a walk, rather than fiddling around on the computer.
For days I have been putting off going to my local town and getting myself a few books from the library, and itís getting desperate now. If I donít do something soon I shall have to start reading my open university coursework!
So I collected together the necessary. Library ticket, gloves, scarf, keys, purse, St Bernard, barrel of brandy. Unfortunately, I didnít have either of those, so I picked up my bus pass just in case I needed to rescue myself.
It was snowing outside, in a half-hearted, haphazard, frozen drizzle kind of way, and the easterly wind swirled the little flakes about.
It was freezing.
Now those of you who live where there is feet of snow, and temperatures below zero for months, will scoff at me complaining that +1C is cold. I need to explain that the UK does a special kind of cold. The wind comes straight across the North Sea from Siberia, and it is damp. Not the kind of invigorating kind of cold you get, but icy fingers finding every little gap in your clothing, and the dampness seeping through into your bones. It also never seems to get light, a perpetually grey world.
The Scots have a word for it, they call it Ďdreichí. Sums it up perfectly.
Anyway, off I went. Although it was 11.30am, most of the cars had their headlights on in the gloom. I turn left into the side-streets.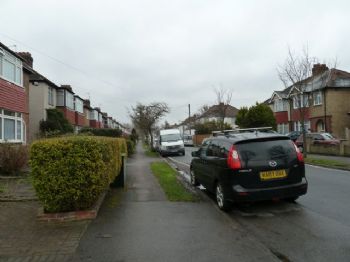 Walking about a mile to the Sutton Bypass. Itís deserted this morning, normally its bonnet to exhaust pipe, solidly all along this bit.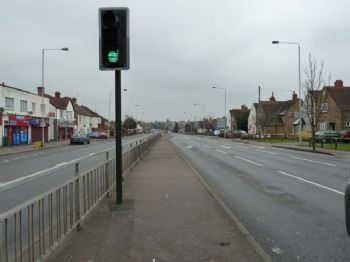 Across the bypass, and into Collingwood Recreation Ground. Sutton Football Club have their grounds here, but nobodies there today.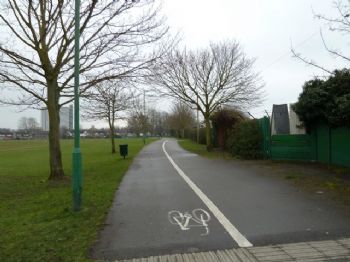 These two look like they might be here for a kick-about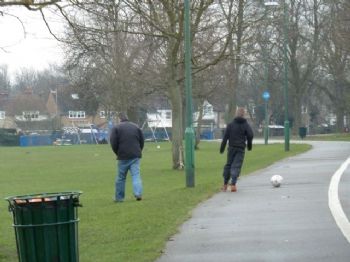 Even the daffs look frozen!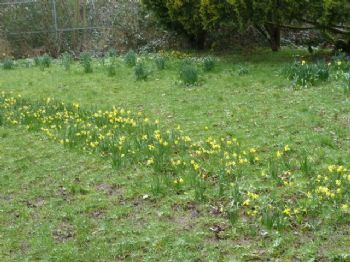 Another mile, mile and a half, and Iím on the outskirts of Sutton, one of the outer London suburbs, and I stop to take a picture of Sutton councils 1960ís answer to the housing crisis.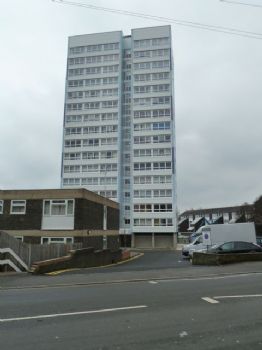 Still they appear to have cured the concrete cancer afflicting it last year, and given it a new coat of paint, and they say the view is amazing from the top! I just am so grateful I donít have to live there!
They called it Balaam House, with the result that none of the residents can spell their address correctly!
Turning round, I get a distinct shock as I catch sight of my reflection in a shop window! Not only are there tears rolling down my chubby little cheeks from the wind, (thank God I wasnít wearing mascara), but I have, what appears to be an electrocuted badger on my head!!!
My hair, once dampened, turns into frizzy wire wool, and a comb only makes it worse! I am resigned to beating it to death with the hair straighteners when I get home!
I take a short cut, through the graveyard of one of Sutton's three churches. This one is just known as the parish church, and is very traditional in this part of Surrey. Usually, the only thing more deserted on a Sunday morning than the roads, are the churches! But I can hear an organ playing, and see a few elderly worshipers inside. It is possible however, that they are desperate Londoners, praying for a change in the weather, or simply keeping their heating bills low.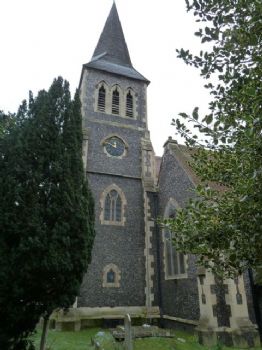 This is the vestry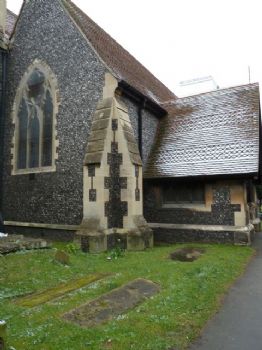 The Methodist church over the road, is a little more Ďhigh churchí but is equally empty.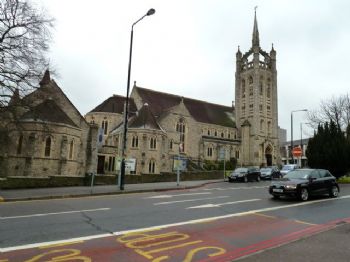 Coming into Sutton High Street, is the only bit of Ďold Suttoní left now. The Cock Inn used to be a hotel. It was knocked down 50 years ago.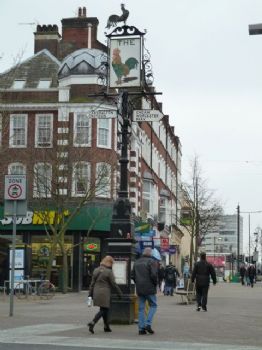 This is the view down the High Street.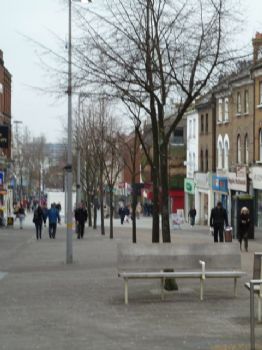 As I should have realized, the library was shut. So I ducked into W.H.Smiths, to try to massage some feeling back into my face, and warm up a bit.
When I left, a short time later, it seemed to be getting dark! I checked my watch to see if I had fallen into some time warp and lost an afternoon, but no, it was still only 12.30pm. The weather had decided to stop sulking, and get on with it! The snow, which had stopped, came down in earnest. Big, wet flakes.
I cannot pretend to not know where I was, I couldnít see, but I could still smell! I lumbered past the fancy French cake shop, the pasty shop and McDonalds, then tip-toed past KFC. I hesitated outside the pasty shop, I will admit, but just at the right moment, a man built like a tank, waddled past, going in the opposite direction, so I braced myself and kept going.
I had just got to the point of thinking that this was ridiculous, and was fumbling, with numb fingers for my bus pass, which had got wedged somehow between the St Bernard and the barrel of brandy....
(What, sorry, hallucinating there... that wasnít a cold, wet nose, it was my cold, soggy hanky!)
When the snow stopped, as suddenly as it had started!
By now I was a good part of my way home, and the wind, which had been in my face the whole time, should have been behind me. Of course, when the snow stopped the wind dropped too. Anyway, by now I was onto the last leg. (Thank Goodness for that did I hear you cry?) This bit is called the Millennium Path, and it was designed as a wildlife corridor, backing on to the biggest graveyard/crematorium in south east London.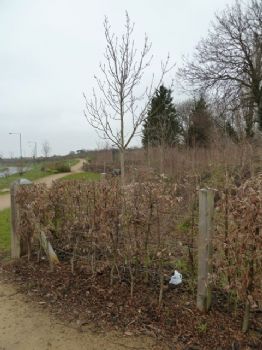 The opposite side of the road is a wilderness too, attracting huge amounts of birds, and bees and butterflies in season.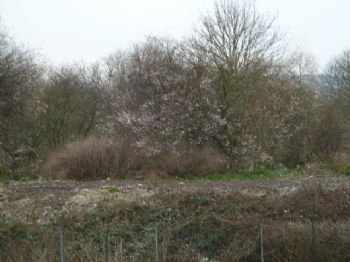 At this point, in a straight line Iím a hundred yards from home, though itís still 20 minutes round the roads.
Not so scenic as the routes I generally do, but better than sitting indoors all day. I'm hoping to get out for a couple of proper walks over Easter, but so far the weather forecast is not very encouraging! Ah well, you know what they say about April:-
April always brings the showers,
They go on for hours and hours!